Type A Malleable Wire Rope Clip
Surface: Electro-Galvanized

Application: Not for critical applications
Type A Malleable Galvanized Wire Rope Clips Specification:

| | |
| --- | --- |
| MOQ | 1 Pallet, 1 Ton or 3000USD |
| Wire rope clip material | Malleable Iron |
| Surface finish | Wire rope clip saddle, U-bolt and nuts are Electro-galvanized(Zinc Plated) |
| Wire rope clip sizes | From 6mm to 50mm |
| Technique Procedure | Cast |
| Standard | EN BS 13411 |
| Wire rope clip HS code | 732690 |
Type A Malleable Wire Rope Clip Key Features:
Type A malleable wire rope clips are light duty wire rope clip which saddles material is a malleable iron, however, the U-bolts and nuts are A3 carbon steel, they can easily make eye-loop connections or join two wire rope cable ends together. They are a simple accessories and commonly be installed in the shop and the field, we also have DIN1142 Malleable Wire Rope Clip for your option.
Meets the performance requirements of EN BS 13411.
A type wire rope clamp is a light duty malleable iron wire rope clamp, do not use it for critical applications, it can be only used in fencing, handrails, animal runs, and such as lashing applications, etc. Check out this article about: A Complete Guide to Wire Rope Clips
The malleable wire cable clamp approximate failure load is 80%~90% of the cable's breaking load
**Malleable iron wire rope clips should only be used in non-critical applications**
Wire rope clamp HS Code: 732690

Type A Malleable Wire Rope Clips Packing:

How to install wire rope clips?
Commonly wire rope clamp installation is very simple, there's a well-known saying can help you remember how to attach wire rope clips, that reads "never saddle a dead horse." Just follow the recommendation ways:
The dead-end of the wire rope (the end of the cut side) must be contacted with the U bolt, then the saddle should be on the live end.
Keep three or more wire rope clips attached at the end of the wire rope dead end, space between each wire rope clip should be at least 6 times the wire rope diameter.
Tighten the wire rope clip closest to the thimble eye loop as possible, and never start from the one farthest from eye separately first.
You can see the correct and incorrect ways of installation from the following pictures and find how many wire rope clips to use at one wire rope loop.
Check out this article for more about wire rope clamp installation.

Shipping and Payment Term:
We generally ship cargos worldwide by sea. The goods will be in a shipping container when arriving at the port. You are responsible for picking up your shipment and customs clearance on your side.
We do accept small, urgent orders that need to be shipped by air.
We currently accept T/T & L/C.
Please contact us if you have any questions about shipping or payment, we will be happy to assist you.
Light Duty Type A malleable wire rope clip capacity suit for the diameter rope from 6mm to 50mm and meet the requirements of EN BS 13411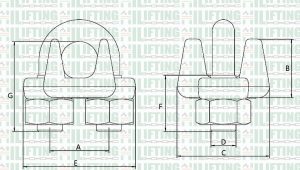 Part No.
Diameter Rope(mm.)
Weight  100PCS (kgs.)
Dimensions(mm.)
A
B
C
D
E
F
G
hlt470a0006
6
2.1
22.5
14
17
5
12
14
24.8
hlt470a0008
8
3.7
28
17
21
6
15
16
30.66
hlt470a0010
10
8.5
38
21
28
8
19
20
37.95
hlt470a0012
12
16
45
27
34
10
24
25
47.55
hlt470a0015
15
25
52
32
40
12
29
30
57.15
hlt470a0020
20
43
62
38
46.5
14
36
36
71.73
hlt470a0022
22
60
69
43
51.5
16
40
39
78.73
hlt470a0025
25
82
76
50
56
18
43
44
90.4
hlt470a0028
28
112
85
57
62
20
48
48
96.9
hlt470a0032
32
150
93
61
67
22
55
51
110.4
hlt470a0040
40
254
111
73
81
24
64
62
122.5
hlt470a0045
45
343
123
86
88
27
72
70
139.5
hlt470a0050
50
456
135
95
95
30
80
88
156
You can also reach us by completing the form below: