Wood Screw Eye Bolt G275
Material: High Tensile Steel

Surface: Hot Dipped Galvanized

Size: From 1/4 × 2 to 3/4 x 4-1/2

Application: Overhead Lifting, Lashing, Towing
Wood Screw Eye Bolt G275 Specifications:

| | |
| --- | --- |
| MOQ | 1 Pallet, 1 Ton or 3000USD |
| Wood lag screw material | High Tensile Steel |
| Surface finish | Hot Dipped Galvanized |
| Eye bolt sizes | From m6 eye bolt to m64 eye bolt |
| Technique Procedure | Drop Forged , Machining , Quenched and Tempered |
| Safety Factor | 5 : 1 |
| Eye bolt HS code | 732690 |
Wood Screw Eye Bolt Key Features:
G275 wood lag screw eye bolt have a large and long thread and cone point, which can grab a firm hold in wood easily. It is ideal for screwing into timbers.
Made from high tensile carbon steel, hot dipped galvanized, used for screwing into wood, we also have stainless steel lag eye bolt for your option.
DO NOT use this wood screw lag eye bolt for any critical load bearing or lifting applications for it is not possible to determine the various densities and conditions of the wood the eye bolts are screwed into.
Check out this article about: A Complete Buying Guideline of Eye Bolts.
Eye bolt HS code: 732690

What Should You Avoid When Using Eye Bolts?
Do not run a sling through a pair of eye bolts – it will reduce the effective angle of lift and will put more strain on the rigging.
Do not force the slings through eye bolts. This force may alter the load and the angle of loading.
Do not use eye bolts that have been ground, machined or stamped.
Do not use bars, grips or wrenches to tighten eye bolts.
Check out this article for more.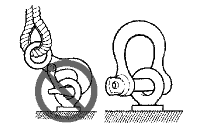 Shipping and Payment Term:
We generally ship cargos worldwide by sea. The goods will be in a shipping container when arriving at the port. You are responsible for picking up your shipment and customs clearance on your side.
We do accept small, urgent orders that need to be shipped by air.
We currently accept T/T & L/C.
Please contact us if you have any questions about shipping or payment, we will be happy to assist you.
This lag screw eye bolt sizes available from 1 4 eye bolt (Shank Dia) to 3 4 eye bolt (Shank Dia), are used for screwing into timbers.
Large Eye Bolt Wood Screw Specification:

Part No.
Shank Dia&Length (in.)
Weight Per 100 PCS(lbs.)
Dimensions (in)
A
B
C
D
E
F
G
H
J
hlt27500001402
1/4 × 2″
4.3
0.25
1.5
2
2.5
2.94
0.5
0.88
0.19
0.47
hlt27505160214
5/16 × 2-1/4″
9.9
0.31
1.69
2.25
2.94
3.5
0.63
1.13
0.25
0.56
hlt27500380212
3/8 × 2-1/2″
18.88
0.38
1.88
2.5
3.28
3.97
0.75
1.38
0.31
0.66
hlt27500120314
1/2 × 3-1/4″
37.5
0.5
2.44
3.25
4.25
5.12
1
1.75
0.38
0.91
hlt27500580004
5/8 × 4″
85.5
0.63
3
4
5.31
6.44
1.25
2.25
0.5
1.12
hlt27500340412
3/4 x 4-1/2″
138
0.75
3.5
4.5
6.25
7.44
1.5
2.75
0.62
1.38
You can also reach us by completing the form below: