How To Select The Right Eye Bolt?
When selecting an eye bolt, it is important to know the correct eyebolt based on its type and capacity for the lift you are conducting.
Plain or regular eye bolts (non-shoulder) are for vertical loading only. Not recommended for angular load applications.
Use shoulder eye bolts for vertical or angle loading. Be aware that angular lifts reduce shoulder eye bolts capacities. Shoulder eyebolts should not be used for angular lifts greater than 45º.
Never use the greater load than the load rated eye bolts capacity, if you are uncertain of the load, it is recommended to choose a larger size eye bolt to be on the safe side.
Follow the manufacturer's recommended method for angle loads.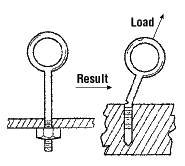 Incorrect use of shoulder bolt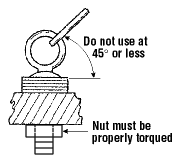 Shoulder eye bolt with load correctly applied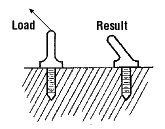 Incorrect way of applying angle load
Ref: