G80 European Type Clevis Shortening Grab Hook
Grade 80 clevis shortening grab hook features a heat-treated alloy steel construction to ensure long-lasting wear resistance and comes with a durable powder plasticized finish to outlast the elements, we also have US type G80 connecting link G80 eye shortening grab hook for your option.
Material: Forged Alloy Steel
Surface: Powder plastifed (Red / Yellow)
Size: From 6mm to 26mm
Safety Factor: 4:1
Application: Overhead Lifting, Lashing, Towing
Specifications:

MOQ
1 Pallet, 1 Ton or 3000USD
Material
Alloy Steel
Surface finish
Powder plasticized
Sizes
From 6mm to 26mm
Technique Procedure
Forged super alloy steel- Quenched and Tempered Breakage test
100% magnaflux crack detection
Safety Factor
4:1 for chain sling
HS code
732690
Descriptions:
It has a cradle on the body preventing the accidental release of the chain whilst still no reduction in working load limit of a shortened leg as long as the sling leg angle does not change.
G8 eye shortening grab hook are made from quenched and tempered alloy steel for high tensile strength and ductility, Proof tested to 2.5 times the W.L.L, ideal for overhead lifting purposes.
Stamped with "G80" or "8" for easy identified and suitable for EN818-2 G80 chain.
Proof test at 2.5 times Working Load Limit, Breaking Load is 4 times the Working Load Limit.
G80 alloy clevis shortening grab hook HS code: 732690

Shipping and Payment Term:
We generally ship cargos worldwide by sea. The goods will be in a shipping container when arriving at the port. You are responsible for picking up your shipment and customs clearance on your side.
We do accept small, urgent orders that need to be shipped by air.
We currently accept T/T & L/C.
Please contact us if you have any questions about shipping or payment, we will be happy to assist you.
Grade 80 alloy steel shortening grab sizes are from 6mm to 26mm, also available in standard as well as customized sizes.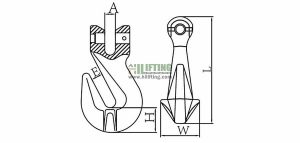 Part No.
Size  (mm.)
Weight  Per PC (kgs.)
WLL (Ton)
B.L (Ton)
Dimensions(mm.)
A
E
H
W
L
hlt84s0860006
6
0.25
1.12
4.48
8
8.3
17.7
26.7
75
hlt84s0860078
7/8
0.32
2
8
9.5
11
18.5
33.5
89
hlt84s0860010
10
0.73
3.15
12.6
12.5
13
29
46
126
hlt84s0860013
13
1.6
5.3
21.2
15
16.5
42.5
57.5
163.5
hlt84s0860016
16
2.8
8
32
18.5
19
45.5
74
183.5
hlt84s0860020
20
5
12.5
50
23
24
56
74
219
hlt84s0860022
22
6.3
15
60
27
27
68.5
90
254
hlt84s0860026
26
14.5
21.2
84.8
30
30
77
102
309