Regular Swivel G402
Material: High Tensile Steel

Surface: Hot Dipped Galvanized

W.L.L: From 850 lbs to 45200 lbs

Application: Overhead Lifting, Lashing, Towing
Regular Swivel G402 Specifications:

| | |
| --- | --- |
| MOQ | 1 Pallet, 1 Ton or 3000USD |
| Chain swivel G402 material | High Tensile Steel |
| Surface finish | Hot Dipped Galvanized |
| Chain swivel sizes | From 1/4 to 1-1/2 |
| Technique Procedure | Drop Forged , Machining , Quenched and Tempered |
| Safety Factor | 5 : 1 |
| Chain Swivel HS code | 732690 |
Eye and Eye Chain Swivels Key Features:
Regular chain swivel is a positioning device and not bearing to swivel under a load, commonly used with mooring anchors, mooring buoys, fishing buoys and also to attach multiple lengths of anchor line or chain to join in between your boat anchor and anchor chain to prevent twisting, we also have chain swivel g401 for your option.
Designed for a swivel is a cylindrical rod that can turn freely within a support structure. The rod is usually prevented from slipping out by a nut, washer or thickening of the rod. The structure of swivel makes it can prevent twisting and binding of slings and attachments.
Made by drop forged, hot dipped galvanized mild carbon steel, making the eye swivels stronger and more robust, meets performance requirements of Federal Specification RR-C-271 Type VII, Class 2.
Chain swivel HS code: 732690

Eye and Eye Chain Swivels Applications:
Shipping and Payment Term:
We generally ship cargos worldwide by sea. The goods will be in a shipping container when arriving at the port. You are responsible for picking up your shipment and customs clearance on your side.
We do accept small, urgent orders that need to be shipped by air.
We currently accept T/T & L/C.
Please contact us if you have any questions about shipping or payment, we will be happy to assist you.
The regular swivel eye and eye capacity and size are from 1/4 to 1-1/2, with Working Load Limit available from 850 lbs to 45200 lbs, Proof Load is 2 times the Working Load Limit and Breaking Load is 5 times the Working Load Limit.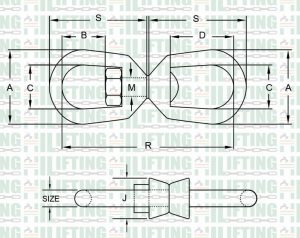 Part No.
Size (in.)
Working Load Limited (lbs.)
Weight/Each (lbs.)
Dimensions (in.)
A
B
C
D
J
M
R
S
hlt402014
1/4
850
0.210
1.25
0.69
0.75
1.06
0.69
0.31
2.94
1.69
hlt402516
5/16
1250
0.390
1.63
0.81
1.00
1.25
0.81
0.38
3.56
2.06
hlt402038
3/8
2250
0.710
2.00
0.94
1.25
1.50
1.00
0.50
4.31
2.50
hlt402012
1/2
3600
1.320
2.50
1.31
1.50
2.00
1.31
0.63
5.44
3.19
hlt402058
5/8
5200
2.490
3.00
1.56
1.75
2.38
1.50
0.75
6.56
3.88
hlt402034
3/4
7200
4.02
3.5
1.75
2
2.63
1.88
0.88
7.19
4.31
hlt402078
7/8
10000
6.25
4
2.06
2.25
3.06
2.13
1
8.38
5
hlt402001
1
12500
8.95
4.5
2.31
2.5
3.5
2.38
1.13
9.63
5.75
hlt402114
1-1/4
18000
16.37
5.63
2.69
3.13
3.69
3
1.5
11.44
6.75
hlt402112
1-1/2
45200
45.79
7.09
3.88
4.09
3.88
3.75
2.25
16.69
9.91
You can also reach us by completing the form below: