Round Sling ASME
Synthetic round slings are an alternative type of synthetic lifting sling also referred as endless sling which is constructed by using loosely twisted strands of high strength polyester fibers yarn, the strands are covered by a woven tubular jacket to create a strand bundle.
Material: Polyester/Polyamide/Polypropylene
W.L.L: From 1 Ton to 60 Ton
Safety Factor: 7:1
Standard: ASME, ANSI B30.9, WSTDA(US Standard)
Length: From 1m to 100m
Application: Lashing, Towing and Lifting Overhead
Certification: CE, ISO9001, SGS, TUV
Marketing Channel: Importer, Wholesaler, Distributor.
Packaging Details: Shrink-wrapped, Export carton cases and pallet
WSTDA Endless Sling Detail:
Due to the tubular design of the protective cover, the round sling is made seamless covered with a woven tubular jacket to protect the polyester fiber cores from damage of cutting, abrasions and ultraviolet degradation.
We supply a complete range of endless round slings to ASME, ANSI B30.9 and WSTDA with a safety factor of  7:1, Safety Factor of 6:1 or 5:1 is available upon customers request(for safety factor of 5:1 is commonly called disposable cargo slings, one way slings used for the loading and unloading cargoes and will be ceased and destroyed once used). The endless slings color code to show the Safe Working Load Limit, as shown in the parameter tab.

Endless Polyester Round Lifting Sling Workshop:
We are one of the best round sling manufacturers in China. Endless round slings are prefect for heavy loads and is made from high tenacity polyester fiber yarn continuously to provide maximum strength with minimum weight, please noted that the polyester yarn cores are not woven into a webbing then pulled through a woven tube, they are bundled by a lot of loosely twisted strands of high strength polyester fibers and blended by a specially designed machine.
The round sling protectors are also manufactured from high tenacity polyester yarn by the weaving looming machines bought from Kyang Hye, and Swiss Jakob Müller AG, then dyeing machine helps to perform two operations on polyester endless round sling, heating and cooling processes experienced by the webbing help to colour coded according to Safe Working Load Limit, Sewing step is the last and greatest important.
High quality raw material (Polyester/Nylon, etc.)
Warping Machine
Weaving Machine
Sewing loom Machine
Dyeing Machine
Safety Bulletin Sewing Machine
Load Strength Test Machine
Film Packing Machine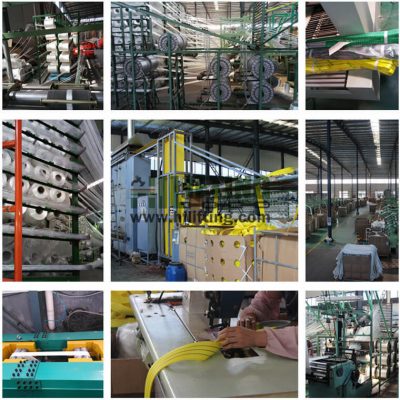 Polyester Round Sling Process:
Raw Material High Tensile Tenacity Polyester Incoming → Yarn Matching → Raw Material Warping → Weaving →  Dyeing → Measuring and Fusing → Joint Sewing and Burr Fusing (End Fitting Applying) → Multi strand wire rope → Sewing (synthetic web sling safety bulletin) → Test Inspection → Film Packing → Warehouse → Shipping
Synthetic web slings are can be configured to work as an eye and eye webbing sling, but synthetic round slings are most commonly offered as an endless grommet shape and different round sling color code to distinguish the different capacity, en 1492 2 round sling and synthetic round slings AS 4497 are the most popular endless webbing sling.
Inspection:
Raw Material Test
Working Load Limit and Breaking Strength Test
Surface Inspection
Finishing Inspection
Packing:
Applications:
Round webbing sling is a versatile sling for general use with unlimited rigging methods, features a strong grip on loads, easy handling and storage, a tighter choke with an easier release, risk reduction of back and hand injuries and reduced cost with less total rigging weight.
They are designed for a safety factor 7:1 which is preferable for heavier loads, but with lighter loads, widely used for overhead lifting, delicate loads, for they feature more stronger, durable and relatively flexible, light weight. Besides round sling protectors sleeves can protect the  potential damage from cutting, tearing, abrasion, heat and U.V. degradation than flat webbing sling. So it is very important to inspect webbing sling regularly, here are some rules you need to know:
1. Shall not be loaded in excess of the rated capacity.
2. Shall not be dragged on the floor or over abrasive surfaces.
3. Shall not be twisted, Shortened, lengthened or tied in knots.
4. Shall not be pulled from under loads that are resting on it.
5. Shall not repair any damaged sling.
6. Shall not be stored in chemically active area, underultraviolet light or near heat.
7. Shall always be protected from sharp edges, sharp cornersor abrasive surfaces.
8. Shall always inspect sling before each use.
9. Shall always be inspected to ensure that the correct sling is being used.
10.Shall always have the load balanced before transporting.
11.Never use slings under -40°C Or more than 100°C.
12.Elongation rate <3% at working load <10% at breaking load.
Synthetic web slings both end can pair with rigging accessories to conjunct with a crane or some type of lifting device, such as hooks, rings or other attachments.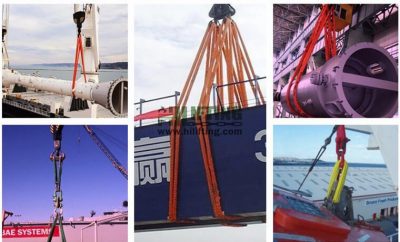 Synthetic polyester round sling chart:
Ultimate load (Break Strength) of US Standard Flat Webbing Slings Eye & Eye is 7 times of the working load limit.
We offer the length of US Standard Flat Webbing Slings Eye & Eye from 1m to 12m usually but also can OEM or ODM against customers' requests and M.B.S (lbs) from 15500 lbs to 14200 lbs.
Endless Lifting Straps Specifications:

| | |
| --- | --- |
| Product name | Polyester Round Sling |
| Material | Polyester Yarn/ Nylon |
| Safety Factor | 5:1 6:1 or 7:1 design factor |
| Size | From 1m to 12m |
| Package | Standard export package (Detailed picture please see the package tab) |
| Polyester round sling HS code | 630790 |
| Country of origin | China |
| Business type | Supplier and manufacturer |
| Brand name | Unbranded/Generic |
Item No.
Diameter Rope
Dimensions(in.)
(in.)
(mm.)
A
B
C
D
E
F
G
H
XS4500003
1/8″
3-4
0.22
0.72
0.44
0.47
0.37
0.38
0.81
0.99
XS4500605
3/16″
5
0.25
0.97
0.56
0.59
0.5
0.44
0.64
1.18
XS4500006
1/4″
6-7
0.31
1.03
0.5
0.75
0.66
0.56
1.19
1.43
XS4500008
5/16″
8
0.38
1.38
0.75
0.88
0.73
0.69
1.31
1.66
XS4500009
3/8″
9-10
0.44
1.5
0.75
1
0.91
0.75
1.63
1.94
XS4500011
7/16″
11
0.5
1.88
1
1.19
1.13
0.88
1.91
2.28
XS4500012
1/2″
12-13
0.5
1.88
1
1.19
1.13
0.88
1.91
2.28
XS4500014
9/16″
14-15
0.56
2.25
1.25
1.31
1.34
0.94
2.06
2.5
XS4500016
5/8″
16
0.56
2.25
1.25
1.31
1.34
0.94
2.06
2.5
XS4500018
3/4″
18-20
0.62
2.75
1.44
1.5
1.39
1.06
2.25
2.84
XS4500022
7/8″
22
0.75
3.12
1.62
1.75
1.58
1.25
2.44
3.16
XS4500024
1″
24-26
0.75
3.5
1.81
1.88
1.77
1.25
2.63
3.47
XS4500028
1-1/8″
28-30
0.75
3.88
2
2
1.91
1.25
2.81
3.59
XS4500032
1-1/4″
32-34
0.88
4.44
2.22
2.31
2.17
1.44
3.13
4.13
XS4500036
1-3/8″
36
0.88
4.44
2.22
2.38
2.31
1.44
3.13
4.19
XS4500038
1-1/2″
38
0.88
4.94
2.38
2.59
2.44
1.44
3.41
4.44
XS4500041
1-5/8″
41-42
1
5.31
2.62
2.75
2.66
1.63
3.63
4.75
XS4500044
1-3/4″
44-46
1.13
5.75
2.75
3.06
2.92
1.81
3.81
5.24
XS4500048
2″
48-52
1.25
6.44
3
3.38
3.28
2
4.44
5.88
XS4500056
2-1/4″
56-58
1.25
7.13
3.19
3.88
3.19
2
4.56
6.38
XS4500062
2-1/2″
62-65
1.25
7.69
3.44
4.13
3.69
2
4.05
6.63
XS4500068
2-3/4″
68-72
1.25
8.31
3.56
4.38
4.88
2
5
6.88
XS4500075
3″
75-78
1.5
9.19
3.88
4.75
4.44
2.38
5.31
7.61
XS4500085
3-1/2″
85-90
1.5
10.75
4.5
5.5
6
2.38
6.19
8.38