Stainless Steel Closed Body Turnbuckle Jaw And Jaw
This stainless steel closed body turnbuckles are also referred to as rigging screws, wire rope tensioner, bottle screws, closed body barrel strainers, or straining screws and wire rope adjusters.
Hilifting closed body turnbuckle jaw and jaw is formed and polished from type 316 stainless steel, which has high durable and corrosion resistance, we also have Stainless Steel Closed Body Turnbuckle Toggle And Toggle for your option.
Material: AISI 316 / AISI 304
Surface: High polished finish
Size: From M4 to M20
Standard: Rigging Screws Type
Brand: Unbranded/Generic
Application: Lifting, Lashing, Towing
Stainless Steel Closed Body Turnbuckle Jaw And Jaw Details:

MOQ
1 Pallet, 1 Ton or 3000USD
Material
grade 316 or 304 stainless steel
Surface finish
High polished finish
Sizes
From M4 to M20
Technique Procedure
Body : Reduced Tube / Machining
Toggle :Stamping/Machining/Welding
HS code
732690
Feature a removable pin and pivot, these fasteners easily adjust on a secured post or frame, and can easily be attached to a saddle or lag screw eye.
Both left and right-handed threaded ends and can be created by simply rotating the body to tension the wire ropes, check this article: Popular options of stainless steel turnbuckle.
Commonly used on wrestling or boxing rings, garden projects, balustrades, theatre, or construction rigging.
Stainless steel rigging screws jaw and jaw HS Code: 732690

Stainless Steel Jaw and Jaw Rigging Screws Packing:
Shipping and Payment Term:
We generally ship cargos worldwide by sea. The goods will be in a shipping container when arriving at the port. You are responsible for picking up your shipment and customs clearance on your side.
We do accept small, urgent orders that need to be shipped by air.
We currently accept T/T & L/C.
Please contact us if you have any questions about shipping or payment, we will be happy to assist you.
Stainless steel rigging screws jaw and jaw is available in sizes ranging from M4 to M20 to to fit every project and are made from grade 316 stainless steel for maximum corrosion resistance and durability.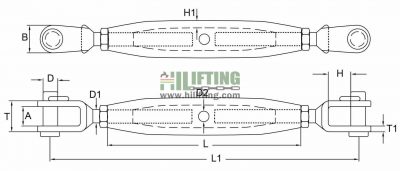 Part No.
Size  (mm.)
Dimensions(mm.)
WT (kgs.)
D1
L
L1
A
D
H
D2
T
LG
B
T1
H1
hlt0001-0004
M4
4
70
110
5.5
4
8
7
11
170
12
3
1.3
0.04
hlt0001-0005
M5
5
80
130
6.5
5
10
8
13
190
13
3
1.3
0.07
hlt0001-0006
M6
6
95
150
7.5
6
10
10
14
220
14
3
1.75
0.09
hlt0001-0008
M8
8
105
165
11
8
11
13
17
240
18.5
3
2.25
0.16
hlt0001-0010
M10
10
125
190
12
9
14
17
20
280
21
4
2.5
0.28
hlt0001-0012
M12
12
150
245
14
12
20
21
24
360
26
5
3
0.53
hlt0001-0014
M14
14
165
270
15
12
22
21
25
390
26.5
5
3
0.63
hlt0001-0016
M16
16
190
310
17
16
26
26.5
29
450
36
6
3.5
1.3
hlt0001-0020
M20
20
210
360
20
19
30
33.5
32
510
45.5
6
4.5
1.73