Stainless Steel Closed Body Turnbuckle Toggle And Toggle
Stainless steel closed body turnbuckle toggle and toggle features a closed body type center with flexible two toggles end with a removable clevis pin. Hilifting is a professional rigging screws manufacturer, we can supply high quality AISI 316 closed body turnbuckles with factory price.
Material: AISI 316 / AISI 304
Surface: High polished finish
Size: From M6 to M20
Standard: Toggle Type
Brand: Unbranded/Generic
Application: Lifting, Lashing, Towing
Stainless Steel Closed Body Turnbuckle Toggle And Toggle Descriptions:

MOQ
1 Pallet, 1 Ton or 3000USD
Material
grade 316 or 304 stainless steel
Surface finish
High polished finish
Sizes
From M6 to M20
Technique Procedure
Body : Reduced Tube / Machining
Toggle :Stamping/Machining/Welding
HS code
732690
It is a special type of fitting which is used to tension the stainless steel wire ropes to keep them secured at the right tension.
Formed and polished from type 316 stainless steel, which has high durable and corrosion resistance, we also have Stainless Steel Closed Body Turnbuckle Jaw And Jaw for your option.
Come with a variety of fittings for each end to suit different applications for wire balustrades, yacht rigging wire and guard rails and more, such as swage fork terminal, swage eye terminal, swage stud terminal, swage toggle terminal, etc.
Both toggles ends can rotate almost 360 degrees to fit any directions connections, check this article: Popular options of stainless steel turnbuckle.
Toggle and toggle closed body stainless steel turnbuckle HS Code: 732690

Rigging Screws Toggle And Toggle Packing: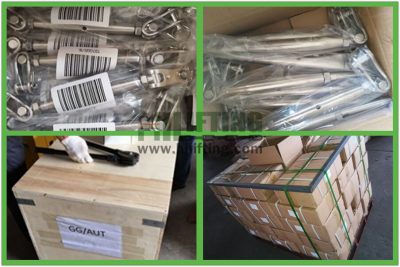 Shipping and Payment Term:
We generally ship cargos worldwide by sea. The goods will be in a shipping container when arriving at the port. You are responsible for picking up your shipment and customs clearance on your side.
We do accept small, urgent orders that need to be shipped by air.
We currently accept T/T & L/C.
Please contact us if you have any questions about shipping or payment, we will be happy to assist you.
This Rigging screws toggle and toggle are available in sizes ranging from M6 to M20 to fit every project and are made from grade 316 stainless steel for exterior high chloride environments, so these toggle turnbuckles are heavy duty and reliable.

Part No.
Size  (mm.)
Dimensions(mm.)
WT (kgs.)
D
L1
L2
A
H
hlt0004-0006
M6
6
160
230
7
15
0.1
hlt0004-0008
M8
8
190
265
10
20
0.191
hlt0004-0010
M10
9
230
320
12
25
0.399
hlt0004-0012
M12
12
280
390
13
30
0.63
hlt0004-0016
M16
16
370
510
17
40
1.45
hlt0004-0020
M20
19
430
570
20
45
*