Material: High Tensile Steel

Surface: Electric Galvanized(Zinc Plated)

Application: Lashing, Towing, Not For overhead lifting,
DIN766 Short Link Chain Specifications:

| | |
| --- | --- |
| MOQ | 1 Pallet, 1 Ton or 3000USD |
| Din 766 short link chain material | High Tensile Steel |
| Surface finish | Electro-Galvanized / Hot Dipped Galvanized |
| Din 766 short link chain sizes | From 2mm to 32mm |
| Standard | Din Specification |
| Din 766 short link chain HS code | 731582 |
Welded Short Link Chain DIN766 Key Features:
It is a galvanized welded short link chain, it is a very commercial link chain, we also have DIN763 Long Link Chain for your option.
Supplied by the meter cut to specific customer requirements and NON-calibrated and NOT Tested, Minimum Breaking Loads are Guidelines ONLY.
Never be used as a sling in either "basket" hitch or chokes configuration, overhead lifting, chain hoist. Do not use for windlass chain unless it was calibrated.
Manufactured to DIN 766 and EN standards
Ideal for playground equipment, farming uses.
Din 766 short link chain HS code: 731582

Short Link Galvanised Chain DIN766 Packing:
Shipping and Payment Term:
We generally ship cargos worldwide by sea. The goods will be in a shipping container when arriving at the port. You are responsible for picking up your shipment and customs clearance on your side.
We do accept small, urgent orders that need to be shipped by air.
We currently accept T/T & L/C.
Please contact us if you have any questions about shipping or payment, we will be happy to assist you.
Din 766 short link chain dimensions are from 2mm to 32mm, meets the requirements of DIN 766 and EN standards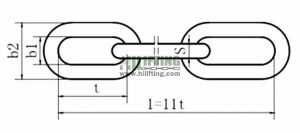 Part No.
SIZE  S
INSIDE LENGTH  t
INSIDE WIDTH  b1
OUTSIDE WIDTH b2
LENGTH PER 11LINKS
WEIGHT PER M
MM
+/-MM
MM
+MM
-MM
MM
MM
MM
+MM
-MM
KG
hlt766002
2
0.2
12
0.2
0.2
3.5
7.5
132
1
0.5
0.07
hlt766003
3
0.2
16
0.2
0.2
4.2
11
176
1.4
0.7
0.16
hlt766004
4
0.2
16
0.3
0.2
5
13.7
176
2.1
1.1
0.32
hlt766005
5
0.2
18.5
0.4
0.2
6
17
203.5
2.4
1.2
0.5
hlt766006
6
0.2
18.5
0.4
0.2
7.2
20.2
203.5
2.4
1.2
0.8
hlt766007
7
0.3
22
0.4
0.2
8.4
23.8
242
3
1.4
1.1
hlt766008
8
0.3
24
0.4
0.2
9.6
27.2
264
3.2
1.5
1.4
hlt766009
9
0.4
27
0.5
0.3
10.8
30.6
297
3.6
1.8
1.8
hlt766010
10
0.4
28
0.5
0.3
12
34
308
3.7
1.9
2.2
hlt766011
11
0.4
31
0.5
0.3
13.2
37.4
341
4
2
2.7
hlt766012
12
0.3
36
0.6
0.3
14.4
40.8
396
4.4
2.2
3.1
hlt766013
13
0.5
36
0.6
0.3
15.6
44.2
396
4.6
2.4
3.8
hlt766014
14
0.6
41
0.7
0.4
16.8
47.6
451
5.4
2.7
4.4
hlt766016
16
0.6
45
0.8
0.4
19.2
54.4
495
6
3
5.7
hlt766018
18
0.9
50
0.8
0.4
21.6
61.2
550
6.6
3.3
7.3
hlt766019
19
0.4
53
0.9
0.4
22.8
64.6
583
7
3.7
7.97
hlt766019
20
1
56
1
0.5
24
68
616
7.4
3.7
9
hlt766023
23
1.2
64
1.1
0.5
27.6
78.2
704
8.4
4.2
12
hlt766026
26
1.3
73
1.2
0.6
31.2
88.4
803
9.6
4.8
15
hlt766028
28
1.4
78
1.3
0.65
33.8
95.2
858
10.2
5.1
18
hlt766030
30
1.5
84
1.4
0.7
41
102
924
11
5.5
19.5
hlt766032
32
1.6
90
1.5
0.75
43
108.8
990
11.8
5.9
23
You can also reach us by completing the form below: