Vehicle Recovery Straps
Vehicle recovery straps are made of hi-tenacity polyester webbing to ensure minimum stretch, flat with protected sewn reinforced eyes at both ends to provide smooth attachment points of connecting with hitch and recovery shackle.
Hilifting manufactures a complete range of recovery tow straps in accordance with EN, ASTM and AS standard with approval for CE, ISO and TUV.
Material: 100% A-A grade high tenacity Polyester
Colors: Usually yellow, can as your requests
Safety Factor: 5:1, 6:1, 7:1, 8:1
Standard: EN 1492-1:2008 (Europe-Standard)
Length: From 1m to 12m
Application: Lashing, Towing and Lifting Overhead
Certification: CE, ISO9001, SGS, TUV
Marketing Channel: Importer, Wholesaler, Distributor, Reseller and Retailer.
Packaging Details: Shrink-wrapped, Export carton cases and pallet
Vehicle Recovery Towing Straps Detail:

Tow recovery straps are designed to pull recovery of vehicles from bogging in sand or mud. Vehicle recovery straps for offroad tow truck are more lightweight, easier, stretched and can prevent damage compared to transport tow chains.
Workshop:
We are one of the best vehicle recovery off road straps manufacturers in China. Our best recovery straps are made from high tensile polyester webbing construction, then weaving the match the polyester yarn by looming machines bought from Kyang Hye, and Swiss Jakob Müller AG, dyeing machine helps to perform two operations on vehicle recovery strap, heating and cooling processes experienced to dye high visibility yellow tow straps coded, Sewing the labels for offroad recovery bulletin, usually we made the recovery strap kit for our customers.
High quality raw material (Polyester/Nylon, etc.)
Warping Machine
Weaving Machine
Sewing loom Machine
Dyeing Machine
Safety Bulletin Sewing Machine
Load Strength Test Machine
Film Packing Machine
Process:
Raw Material High Tensile Tenacity Polyester Incoming → Yarn Matching → Raw Material Warping → Weaving → Dyeing → Measuring and Fusing → Joint Sewing and Burr Fusing (End Fitting Applying) → Multi strand wire rope → Sewing (tow straps bulletin) → Test Inspection → Film Packing → Warehouse → Shipping
With different recovery accessories attached tow recovery straps, recovery strap hooks, recovery shackle, and hitch, you can be sure to buy tow recovery strap to suit your purpose.
Inspection:
Raw Material Test
Working Load Limit and Breaking Strength Test
Surface Inspection
Finishing Inspection
Snatch Strap Recovery Packing: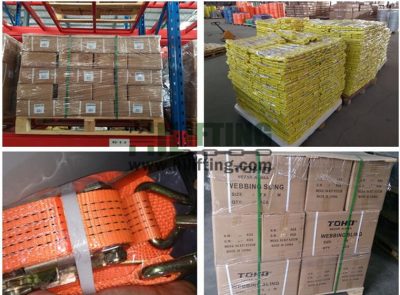 Applications:
The vehicle recovery ratchet straps are used for emergency roadside situation designed to recover vehicles which are badly bogged, and can also be used for towing applications. It has such performance as safety, lightness, convenience and easiness to operate, and prevents damages.
Because the car recovery straps are made of Nylon, they are easy to handle and store, safer than chains, easier to use, and not nearly as heavy.
Perhaps the only significant concern of using off road recovery straps are they are more susceptible to potential damage such as cutting, tearing, abrasion, heat and U.V. degradation than wire rope slings or chain slings. So it is very important to inspect tow truck tie down straps regularly, here are some tips for vehicle tow recovery strap before use:
Although you can use the vehicle recovery straps for recover vehicles, you should done this very slowly and very carefully, avoid applying any dynamic loads as this can result in connecting points breaking and make the hooks flying off at speeds in excess of 100 mph.
1. Only use undamaged condition before ever using tow hook straps, no cuts, frays, or broken stitching.
2. Heavy duty tow straps must not be overload.
3. Do not attach a tow hook straps to another vehicle with tie knots.
4. Always ensure the fixing points are a secure and strong place on the vehicles frame. Never attach tow truck tie down straps to a vehicles bumpers, axles, suspension, steering rods, or a trailer hitch ball.
Synthetic web slings both end can pair with rigging accessories to conjunct with a crane or some type of lifting device, such as hooks, rings or other attachments.
Off road recovery vehicle sizes :
Ultimate load (Break Strength) of US Standard Flat Webbing Slings Eye & Eye is 7 times of the working load limit.
We offer the length of US Standard Flat Webbing Slings Eye & Eye from 1m to 12m usually but also can OEM or ODM against customers' requests and M.B.S (lbs) from 15500 lbs to 14200 lbs.
Best Recovery Straps For Wholesaler Specifications:

| | |
| --- | --- |
| Product name | Heavy duty recovery straps |
| Material | Polyester Yarn |
| Safety Factor | 2:1 3:1 design factor |
| Size | From 1m to 12m |
| Package | Standard export package (Detailed picture please see the package tab) |
| Recovery strap HS code | 630790 |
| Country of origin | China |
| Business type | Supplier and manufacturer |
| Brand name | Unbranded/Generic |
Item No.
Diameter Rope
Dimensions(in.)
(in.)
(mm.)
A
B
C
D
E
F
G
H
XS4500003
1/8″
3-4
0.22
0.72
0.44
0.47
0.37
0.38
0.81
0.99
XS4500605
3/16″
5
0.25
0.97
0.56
0.59
0.5
0.44
0.64
1.18
XS4500006
1/4″
6-7
0.31
1.03
0.5
0.75
0.66
0.56
1.19
1.43
XS4500008
5/16″
8
0.38
1.38
0.75
0.88
0.73
0.69
1.31
1.66
XS4500009
3/8″
9-10
0.44
1.5
0.75
1
0.91
0.75
1.63
1.94
XS4500011
7/16″
11
0.5
1.88
1
1.19
1.13
0.88
1.91
2.28
XS4500012
1/2″
12-13
0.5
1.88
1
1.19
1.13
0.88
1.91
2.28
XS4500014
9/16″
14-15
0.56
2.25
1.25
1.31
1.34
0.94
2.06
2.5
XS4500016
5/8″
16
0.56
2.25
1.25
1.31
1.34
0.94
2.06
2.5
XS4500018
3/4″
18-20
0.62
2.75
1.44
1.5
1.39
1.06
2.25
2.84
XS4500022
7/8″
22
0.75
3.12
1.62
1.75
1.58
1.25
2.44
3.16
XS4500024
1″
24-26
0.75
3.5
1.81
1.88
1.77
1.25
2.63
3.47
XS4500028
1-1/8″
28-30
0.75
3.88
2
2
1.91
1.25
2.81
3.59
XS4500032
1-1/4″
32-34
0.88
4.44
2.22
2.31
2.17
1.44
3.13
4.13
XS4500036
1-3/8″
36
0.88
4.44
2.22
2.38
2.31
1.44
3.13
4.19
XS4500038
1-1/2″
38
0.88
4.94
2.38
2.59
2.44
1.44
3.41
4.44
XS4500041
1-5/8″
41-42
1
5.31
2.62
2.75
2.66
1.63
3.63
4.75
XS4500044
1-3/4″
44-46
1.13
5.75
2.75
3.06
2.92
1.81
3.81
5.24
XS4500048
2″
48-52
1.25
6.44
3
3.38
3.28
2
4.44
5.88
XS4500056
2-1/4″
56-58
1.25
7.13
3.19
3.88
3.19
2
4.56
6.38
XS4500062
2-1/2″
62-65
1.25
7.69
3.44
4.13
3.69
2
4.05
6.63
XS4500068
2-3/4″
68-72
1.25
8.31
3.56
4.38
4.88
2
5
6.88
XS4500075
3″
75-78
1.5
9.19
3.88
4.75
4.44
2.38
5.31
7.61
XS4500085
3-1/2″
85-90
1.5
10.75
4.5
5.5
6
2.38
6.19
8.38