Ratchet Tie Down Strap AS4380
Ratchet tie down strap AS4380 is a cargo area tiedowns, that are designed to keep cargo securing, and can be used for quickly secure any loose cargo to move while the vehicle is in moving. Cargo strap webbing features lightweight, high pretension and less damage to cargo than load binders, suitable for general transport requirements.
We manufactured a complete range of cargo tie downs in accordance with AS4380, with a variety of colors, widths, lengths and cargo tie down hardware.
Material: Polyester/Polyamide/Polypropylene
Ply: Single, Double, Three or Multi
Safety Factor: 5:1, 6:1, 7:1, 8:1
Standard: EN 1492-1:2008 (Europe-Standard)
Length: From 1m to 12m
Application: Lashing, Towing and Lifting Overhead
Certification: CE, ISO9001, SGS, TUV
Marketing Channel: Importer, Wholesaler, Distributor, Reseller and Retailer.
Packaging Details: Shrink-wrapped, Export carton cases and pallet
Commercial Ratchet Straps AS4380 Detail:

Workshop:
We are one of the best ratchet tie down manufacturers in China. Our polyester ratchet straps are made from high tensile polyester yarn, then weaving the match the polyester yarn by looming machines bought from Kyang Hye, and Swiss Jakob Müller AG, dyeing machine helps to perform two operations on flat woven webbing sling, heating and cooling processes experienced by the webbing help to colour coded according to Safe Working Load Limit, Sewing trailer ratchet straps safety label, then assemble the tie down strap holder and end fittings.
High quality raw material (Polyester/Nylon, etc.)
Warping Machine
Weaving Machine
Sewing loom Machine
Dyeing Machine
Safety Bulletin Sewing Machine
Load Strength Test Machine
Film Packing Machine
Process:
Raw Material High Tensile Tenacity Polyester Incoming → Yarn Matching → Raw Material Warping → Weaving →  Dyeing → Measuring and Fusing → Joint Sewing and Burr Fusing (End Fitting Applying) → Multi strand wire rope → Sewing (synthetic web sling safety bulletin) → Test Inspection → Film Packing → Warehouse → Shipping
With a variety of strap tie down hardware to make them j hook ratchet tie down straps, ratchet buckle strap, short cam straps, wire hooks cargo ratchet straps, widths and length. Various wheel restraints including ratchet tow straps, car trailer ratchet straps and truck ratchet tie down straps available for tray tow trucks and car trailers.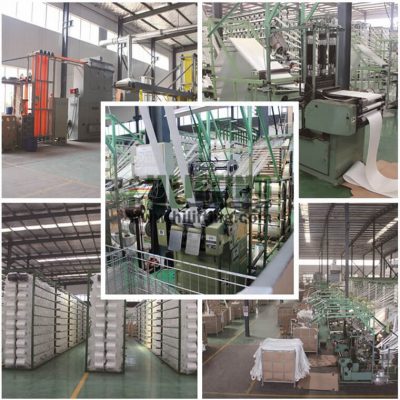 Inspection:
Raw Material Test
Working Load Limit and Breaking Strength Test
Surface Inspection
Finishing Inspection
Cargo Tie Down Straps Packing: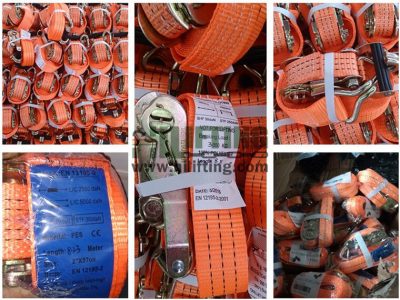 Load Securing Boat Ratchet Straps Applications:
Webbing load securing straps have the advantage of a small amount of stretch which is an advantage in loads that move and shift slightly during their voyage. So the boat ratchet tie down straps are the most common used in load securing, boat strap belt are made from heavy duty polyester material with a minimum breaking strength, fitted with heavy duty hooks(ratchet buckles, cam buckles, wire hooks, J and double-J hooks) on ratchet end and tail end. Ratchet ties straps are suitable for many different applications and industries, can be used for used for direct lashing or for tying the load down for their strong, flexible and long life durable nature. Perhaps the only significant concern of using cargo ratchet straps are they are more susceptible to potential damage such as cutting, tearing, abrasion, heat and U.V. degradation than wire rope slings or chain slings. So it is very important to inspect ratchet cargo lashing strap regularly, here are some rules you need to know:
1.Only use undamaged ratchet lashing, the label indicating the capacity must be clearly legible.
2. Ratchet lashings must not be overload.
3. Do not tie knots in the webbing.
4.Protect the webbing against abrasion and/or cutting by using edge protectors and sleeves for sharp edges.
5.Avoid twisted positioning of the ratchet lashing.
6.Do not place loads on the ratchet lashing, which could cause damage.
7. Ratchet lashings should not be used as a load lifting gear.
Synthetic web slings both end can pair with rigging accessories to conjunct with a crane or some type of lifting device, such as hooks, rings or other attachments.
Tie down ratchet strap sizes :
Ultimate load (Break Strength) of US Standard Flat Webbing Slings Eye & Eye is 7 times of the working load limit.
We offer the length of US Standard Flat Webbing Slings Eye & Eye from 1m to 12m usually but also can OEM or ODM against customers' requests and M.B.S (lbs) from 15500 lbs to 14200 lbs.
Load Straps For Trailers Ratchet Strap Specifications:

| | |
| --- | --- |
| Product name | Lashing straps with hooks |
| Material | Polyester Yarn |
| Safety Factor | 2:1 3:1 design factor |
| Size | From 1m to 12m |
| Package | Standard export package (Detailed picture please see the package tab) |
| Ratchet tie down HS code | 630790 |
| Country of origin | China |
| Business type | Supplier and manufacturer |
| Brand name | Unbranded/Generic |
Item No.
Diameter Rope
Dimensions(in.)
(in.)
(mm.)
A
B
C
D
E
F
G
H
XS4500003
1/8″
3-4
0.22
0.72
0.44
0.47
0.37
0.38
0.81
0.99
XS4500605
3/16″
5
0.25
0.97
0.56
0.59
0.5
0.44
0.64
1.18
XS4500006
1/4″
6-7
0.31
1.03
0.5
0.75
0.66
0.56
1.19
1.43
XS4500008
5/16″
8
0.38
1.38
0.75
0.88
0.73
0.69
1.31
1.66
XS4500009
3/8″
9-10
0.44
1.5
0.75
1
0.91
0.75
1.63
1.94
XS4500011
7/16″
11
0.5
1.88
1
1.19
1.13
0.88
1.91
2.28
XS4500012
1/2″
12-13
0.5
1.88
1
1.19
1.13
0.88
1.91
2.28
XS4500014
9/16″
14-15
0.56
2.25
1.25
1.31
1.34
0.94
2.06
2.5
XS4500016
5/8″
16
0.56
2.25
1.25
1.31
1.34
0.94
2.06
2.5
XS4500018
3/4″
18-20
0.62
2.75
1.44
1.5
1.39
1.06
2.25
2.84
XS4500022
7/8″
22
0.75
3.12
1.62
1.75
1.58
1.25
2.44
3.16
XS4500024
1″
24-26
0.75
3.5
1.81
1.88
1.77
1.25
2.63
3.47
XS4500028
1-1/8″
28-30
0.75
3.88
2
2
1.91
1.25
2.81
3.59
XS4500032
1-1/4″
32-34
0.88
4.44
2.22
2.31
2.17
1.44
3.13
4.13
XS4500036
1-3/8″
36
0.88
4.44
2.22
2.38
2.31
1.44
3.13
4.19
XS4500038
1-1/2″
38
0.88
4.94
2.38
2.59
2.44
1.44
3.41
4.44
XS4500041
1-5/8″
41-42
1
5.31
2.62
2.75
2.66
1.63
3.63
4.75
XS4500044
1-3/4″
44-46
1.13
5.75
2.75
3.06
2.92
1.81
3.81
5.24
XS4500048
2″
48-52
1.25
6.44
3
3.38
3.28
2
4.44
5.88
XS4500056
2-1/4″
56-58
1.25
7.13
3.19
3.88
3.19
2
4.56
6.38
XS4500062
2-1/2″
62-65
1.25
7.69
3.44
4.13
3.69
2
4.05
6.63
XS4500068
2-3/4″
68-72
1.25
8.31
3.56
4.38
4.88
2
5
6.88
XS4500075
3″
75-78
1.5
9.19
3.88
4.75
4.44
2.38
5.31
7.61
XS4500085
3-1/2″
85-90
1.5
10.75
4.5
5.5
6
2.38
6.19
8.38