Cargo Lashing Straps Webbing
Cargo lashing straps webbing is a ratchet strap belt, which is the material of ratchet tie down. They are manufactured from the finest quality, high tenacity polyester webbing two part lashing.
Hilifting ratchet cargo lashing straps can be supplied in 100m per reel or cut into requested lengths and are also supplied in various colours, color coded meet the EN and ASTM / WSTDA standard.
Material: Polyester/Polyamide/Polypropylene
Ply: Single, Double, Three or Multi
Safety Factor: 5:1, 6:1, 7:1, 8:1
Standard: EN 1492-1:2008 (Europe-Standard)
Length: From 1m to 12m
Application: Lashing, Towing and Lifting Overhead
Certification: CE, ISO9001, SGS, TUV
Marketing Channel: Importer, Wholesaler, Distributor.
Packaging Details: Shrink-wrapped, Export carton cases and pallet
Ratchet Strap Material Detail:
Ratchet cargo lashing strap is lightweight and flexible and has a compact ratchet tensioner, offers a good performance to low and high operating temperatures, is resistant to sunlight and resistant to most chemical.
We supply a complete range of ratchet strap material to EN1492-1:2008, ASTM / WSTDA, with lashing capacities available from 350kg to 5000kg with Webbing widths from 25mm to 75mm, please see specs as shown in the parameter tab

Workshop

:
Ratchet cargo lashing strap webbing is paired with ratchet buckles, cam buckles, J hooks and more a variety of end fittings to make a ratchet strap and apply for various wheel restraints available for tow trucks and car trailers.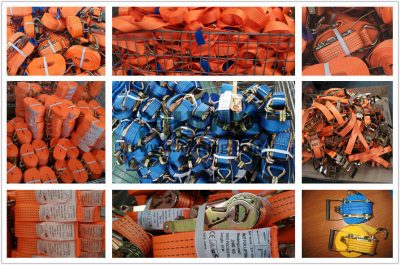 Packing: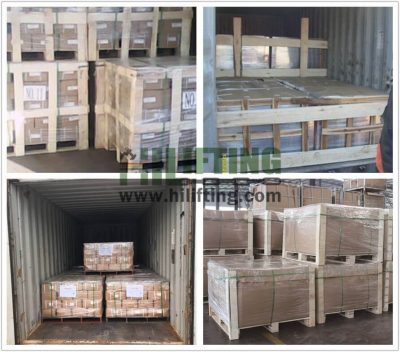 Cargo lashing strap belt capacity:
Ultimate load (Break Strength) of US Standard Flat Webbing Slings Eye & Eye is 7 times of the working load limit.
We offer the length of US Standard Flat Webbing Slings Eye & Eye from 1m to 12m usually but also can OEM or ODM against customers' requests and M.B.S (lbs) from 15500 lbs to 14200 lbs.
Cargo Tie Down Straps Material Specification:



| | |
| --- | --- |
| Product name | Cargo lashing strap belt |
| Material | Polyester Yarn |
| Safety Factor | 5:1 6:1 or 7:1 design factor |
| Size | From 1m to 12m |
| Package | Standard export package (Detailed picture please see the package tab) |
| Cargo lashing strap belt HS code | 630790 |
| Country of origin | China |
| Business type | Supplier and manufacturer |
| Brand name | Unbranded/Generic |
Item No.
Diameter Rope
Dimensions(in.)
(in.)
(mm.)
A
B
C
D
E
F
G
H
XS4500003
1/8″
3-4
0.22
0.72
0.44
0.47
0.37
0.38
0.81
0.99
XS4500605
3/16″
5
0.25
0.97
0.56
0.59
0.5
0.44
0.64
1.18
XS4500006
1/4″
6-7
0.31
1.03
0.5
0.75
0.66
0.56
1.19
1.43
XS4500008
5/16″
8
0.38
1.38
0.75
0.88
0.73
0.69
1.31
1.66
XS4500009
3/8″
9-10
0.44
1.5
0.75
1
0.91
0.75
1.63
1.94
XS4500011
7/16″
11
0.5
1.88
1
1.19
1.13
0.88
1.91
2.28
XS4500012
1/2″
12-13
0.5
1.88
1
1.19
1.13
0.88
1.91
2.28
XS4500014
9/16″
14-15
0.56
2.25
1.25
1.31
1.34
0.94
2.06
2.5
XS4500016
5/8″
16
0.56
2.25
1.25
1.31
1.34
0.94
2.06
2.5
XS4500018
3/4″
18-20
0.62
2.75
1.44
1.5
1.39
1.06
2.25
2.84
XS4500022
7/8″
22
0.75
3.12
1.62
1.75
1.58
1.25
2.44
3.16
XS4500024
1″
24-26
0.75
3.5
1.81
1.88
1.77
1.25
2.63
3.47
XS4500028
1-1/8″
28-30
0.75
3.88
2
2
1.91
1.25
2.81
3.59
XS4500032
1-1/4″
32-34
0.88
4.44
2.22
2.31
2.17
1.44
3.13
4.13
XS4500036
1-3/8″
36
0.88
4.44
2.22
2.38
2.31
1.44
3.13
4.19
XS4500038
1-1/2″
38
0.88
4.94
2.38
2.59
2.44
1.44
3.41
4.44
XS4500041
1-5/8″
41-42
1
5.31
2.62
2.75
2.66
1.63
3.63
4.75
XS4500044
1-3/4″
44-46
1.13
5.75
2.75
3.06
2.92
1.81
3.81
5.24
XS4500048
2″
48-52
1.25
6.44
3
3.38
3.28
2
4.44
5.88
XS4500056
2-1/4″
56-58
1.25
7.13
3.19
3.88
3.19
2
4.56
6.38
XS4500062
2-1/2″
62-65
1.25
7.69
3.44
4.13
3.69
2
4.05
6.63
XS4500068
2-3/4″
68-72
1.25
8.31
3.56
4.38
4.88
2
5
6.88
XS4500075
3″
75-78
1.5
9.19
3.88
4.75
4.44
2.38
5.31
7.61
XS4500085
3-1/2″
85-90
1.5
10.75
4.5
5.5
6
2.38
6.19
8.38