Grade 80 Alloy Steel Lifting Chain
Grade 80 alloy steel lifting chain is a heat-treated steel chain with a high strength-to-weight ratio which can be safe for overhead lifting and lifting slings.
Stamped with "G80" or "BSN-8" (embossed every 20 Links/Meters)on the link for easy identification and black finish.
Material: High Tensile Alloy Steel
Surface: Black Finish
W.L.L: From 1.12 tons to 31.5 tons
Size: From 6mm to 32mm
Standard: BS-EN 818-2 / NACM96
Safety Factor: 4:1
Brand: Unbranded/Generic
Application: Lashing, Towing, Overhead lifting
Grade 80 Alloy Steel Lifting Chain Specifications:

| | |
| --- | --- |
| MOQ | 1 Pallet, 1 Ton or 3000USD |
| Material | Alloy Steel |
| Surface finish | Self Color With Oil |
| Sizes | From 6mm to 32mm |
| Safety Factor | 4:1 |
| Standard | U.S. Federal Specification |
| HS code | 731582 |
Key Features:
Chain load rating strength following heat treatment meets or exceeds all existing OSHA, Government, NACM, and ASTM specification requirements.
Features rugged, versatile, high-strength, low-weight, quality testing is undertaken throughout the manufacturing process, tensile strength is twice of ordinary steel chain.
Comes in a black finish and should not be galvanized as it will weaken the strength to the transport chain Grade 70.
Manufactured and tested in accordance with BS-EN 818-2 can be used for lifting chain slings certified to EN818-4, used in overhead lifting applications.
Ideal for chain sling, crane slings, design for overhead lifting purposes.
Grade 80 alloy lifting chain HS code: 731582

Workshop: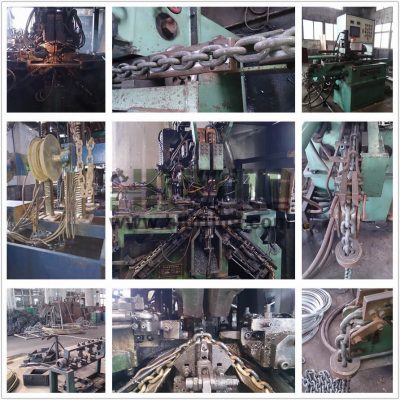 Packing:
Shipping and Payment Term:
We generally ship cargos worldwide by sea. The goods will be in a shipping container when arriving at the port. You are responsible for picking up your shipment and customs clearance on your side.
We do accept small, urgent orders that need to be shipped by air.
We currently accept T/T & L/C.
Please contact us if you have any questions about shipping or payment, we will be happy to assist you.
The grade 80 alloy chain we manufactured meets the performance requirements of BS-EN 818-2 and (NACM) and ASTM A391/A391M standards, sizes are from 6mm to 32mm with proof load at 2.5 times of the Working Load and breaking chain load rating at 4 times the Working Load Limit.

Part No.
Chain Dia.
Pitch
Inner Width
Outer Width
Approx Weight
W.L.L
P.L
M.B.L
d(mm)
p(mm)
a(mm) Min
b(mm) Max
kg/m
tons
tons
tons
hlt800618
6±0.24
18±0.5
7.8
22.2
0.8
1.12
2.80
4.48
hlt800721
7±0.28
21±0.6
9.1
25.9
1.1
1.50
3.75
6.00
hlt800832
8±0.32
24±0.7
10.4
29.6
1.4
2.00
5.00
8.00
hlt8001030
10±0.4
30±0.9
13
37
2.2
3.15
7.88
12.60
hlt801339
13±0.52
39±1.2
16.9
48.1
3.8
5.30
13.25
21.20
hlt801648
16±0.64
48±1.4
20.8
59.2
5.7
8.00
20.00
32.00
hlt801854
18±0.9
54±1.6
23.4
66.6
8
11.20
28.00
44.80
hlt802060
20±12.5
60±1.8
26
74
9
12.50
31.25
50.00
hlt802266
22±1.1
66±2.0
28.6
81.4
10.8
15.00
37.50
60.00
hlt802678
26±1.3
78±2.3
33.8
96.2
15.2
21.20
53.00
84.80
hlt803296
32±1.6
96±2.9
41.6
118
23
31.50
78.75
126.00