Stainless Steel Eye Strap
Stainless steel eye strap is also known as stainless steel saddle or strap eye features a round shape with two fixing points eye to fit into the rigging screw turnbuckles and swage terminal, we also have Stainless Steel Terminal for your option
Material: AISI 316 / AISI 304
Surface: High polished finish
Size: From 4mm to 10mm
Standard: Eye Strap Type
Brand: Unbranded/Generic
Application: Lifting, Lashing, Towing
Stainless Steel Eye Strap Descriptions:

| | |
| --- | --- |
| MOQ | 1 Pallet, 1 Ton or 3000USD |
| Material | grade 316 or 304 stainless steel |
| Surface finish | High polished finish |
| Sizes | From 4mm to 10mm |
| Technique Procedure | Cast |
| HS code | 732690 |
Made from AISI 316 marine grade stainless steel.
Can make a definite fixing point on your timber post fencing to create fenced off areas to discourage animals from escaping or for use in the garden.
Stainless steel eye strap HS Code: 732690

Stainless Steel Saddle Packing: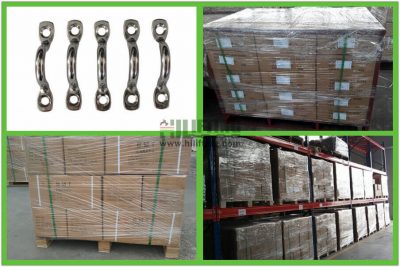 Shipping and Payment Term:
We generally ship cargos worldwide by sea. The goods will be in a shipping container when arriving at the port. You are responsible for picking up your shipment and customs clearance on your side.
We do accept small, urgent orders that need to be shipped by air.
We currently accept T/T & L/C.
Please contact us if you have any questions about shipping or payment, we will be happy to assist you.
Stainless steel wire eye strap can create an anchoring point by fastening into a flat surface, sizes ranging from 4mm to 10mm, ideal for anchoring stainless steel wire ropes in balustrading systems.
Part No.
Size  (mm.)
Dimensions(mm.)
WT (kgs.)
D
d
L2
h
H
L1
hlt0141-0004
4
4
4
35
12
16
46
0.005
hlt0141-0005
5
5
4
42
13
17
53
0.008
hlt0141-0006
6
6
5
47
16
22
60
0.013
hlt0141-0008
8
8
6
49
17
25
63
0.026
hlt0141-0010
10
10
6.5
63
22
32
80
0.053