DIN 580 Eye Bolt
DIN 580 Eye Bolt is a kind of lifting eye bolt, it can provide a lifting point to attach a hook or rope prior to lifting heavy objects, but it must be fully screwed tight against the object to be lifted.
Made from high tensile carbon steel, drop forged, zinc plated blue passivated makes the screw eye bolt stronger and more robust.
Material: High Tensile Steel / C15
Surface: Electro-Galvanized (Zinc Plated)
W.L.L: From 0.07 Tons to 16 Tons
Size: From 6mm to 64mm
Standard: DIN Type
Safety Factor: 5:1
Brand: Unbranded/Generic
Application: Overhead Lifting, Lashing, Towing
Eye Bolt DIN 580 Specifications:

| | |
| --- | --- |
| MOQ | 1 Pallet, 1 Ton or 3000USD |
| Material | High Tensile Steel / C15 or C15E |
| Surface finish | Hot Dipped Galvanized / Electro-Galvanized (Zinc Plated) |
| Eye bolt sizes | From m6 eye bolt to m64 eye bolt |
| Technique Procedure | Drop Forged , Machining , Quenched and Tempered |
| Safety Factor | 5 : 1 |
| Eye bolt HS code | 732690 |
Din 580 Key Features:
Similar or correspond to standard Din 580.
These collared eye bolts have fully threaded short shank, similar to machine thread eye bolts, but with a more strong shoulder, they are used for side or angular lifting as long as the collar is properly seated.
The lifting eye bolt din 580 capacity will be lost at a different angle of loading, and be sure that not be used once the side pulling angle of > 45°, use other lifting points or swivel hoist rings for the lifts. Check out this article about: A Complete Buying Guideline of Eye Bolts.
Eye bolt HS code: 732690

Eye Bolts Packing:
4 Basic Rules For Eye Bolt Selection
When selecting an eye bolt, it is important to know the correct eyebolt based on its type and capacity for the lift you are conducting.
Plain or regular eye bolts (non-shoulder) are for vertical loading only. Not recommended for angular load applications.
Use shoulder eye bolts for vertical or angle loading. Be aware that angular lifts reduce shoulder eye bolts capacities. Shoulder eyebolts should not be used for angular lifts greater than 45º.
Never use the greater load than the load rated eye bolts capacity, if you are uncertain of the load, it is recommended to choose a larger size eye bolt to be on the safe side.
Follow the manufacturer's recommended method for angle loads.
Check out this article about How To Select The Right Eye Bolt?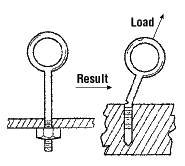 Incorrect use of shoulder bolt
Shipping and Payment Term:
We generally ship cargos worldwide by sea. The goods will be in a shipping container when arriving at the port. You are responsible for picking up your shipment and customs clearance on your side.
We do accept small, urgent orders that need to be shipped by air.
We currently accept T/T & L/C.
Please contact us if you have any questions about shipping or payment, we will be happy to assist you.
Din580 eye bolt sizes are from m6 eye bolt to m64 with Working Load Limit available from 0.07 tons to 16 tons. Breaking Load is 6 times the Working Load Limit.
Din580 eye bolt dimensions:

Item No.
Diameter Rope
Dimensions(in.)
(in.)
(mm.)
A
B
C
D
E
F
G
H
XS4500003
1/8″
3-4
0.22
0.72
0.44
0.47
0.37
0.38
0.81
0.99
XS4500605
3/16″
5
0.25
0.97
0.56
0.59
0.5
0.44
0.64
1.18
XS4500006
1/4″
6-7
0.31
1.03
0.5
0.75
0.66
0.56
1.19
1.43
XS4500008
5/16″
8
0.38
1.38
0.75
0.88
0.73
0.69
1.31
1.66
XS4500009
3/8″
9-10
0.44
1.5
0.75
1
0.91
0.75
1.63
1.94
XS4500011
7/16″
11
0.5
1.88
1
1.19
1.13
0.88
1.91
2.28
XS4500012
1/2″
12-13
0.5
1.88
1
1.19
1.13
0.88
1.91
2.28
XS4500014
9/16″
14-15
0.56
2.25
1.25
1.31
1.34
0.94
2.06
2.5
XS4500016
5/8″
16
0.56
2.25
1.25
1.31
1.34
0.94
2.06
2.5
XS4500018
3/4″
18-20
0.62
2.75
1.44
1.5
1.39
1.06
2.25
2.84
XS4500022
7/8″
22
0.75
3.12
1.62
1.75
1.58
1.25
2.44
3.16
XS4500024
1″
24-26
0.75
3.5
1.81
1.88
1.77
1.25
2.63
3.47
XS4500028
1-1/8″
28-30
0.75
3.88
2
2
1.91
1.25
2.81
3.59
XS4500032
1-1/4″
32-34
0.88
4.44
2.22
2.31
2.17
1.44
3.13
4.13
XS4500036
1-3/8″
36
0.88
4.44
2.22
2.38
2.31
1.44
3.13
4.19
XS4500038
1-1/2″
38
0.88
4.94
2.38
2.59
2.44
1.44
3.41
4.44
XS4500041
1-5/8″
41-42
1
5.31
2.62
2.75
2.66
1.63
3.63
4.75
XS4500044
1-3/4″
44-46
1.13
5.75
2.75
3.06
2.92
1.81
3.81
5.24
XS4500048
2″
48-52
1.25
6.44
3
3.38
3.28
2
4.44
5.88
XS4500056
2-1/4″
56-58
1.25
7.13
3.19
3.88
3.19
2
4.56
6.38
XS4500062
2-1/2″
62-65
1.25
7.69
3.44
4.13
3.69
2
4.05
6.63
XS4500068
2-3/4″
68-72
1.25
8.31
3.56
4.38
4.88
2
5
6.88
XS4500075
3″
75-78
1.5
9.19
3.88
4.75
4.44
2.38
5.31
7.61
XS4500085
3-1/2″
85-90
1.5
10.75
4.5
5.5
6
2.38
6.19
8.38