DIN6899 Type B Wire Rope Thimble
Din 6899 B type wire rope thimble is used for heavy duty rigging application, can offer more strength, sturdiness and crush resistance than din 6899 A type rope thimble, it can create reinforce loop eye to be used with other rigging accessories to form a wire rope eyelet.
Hilifting Din6899 B thimebles are made from mild steel, stamping, and electro-galvanized which helps resist corrosion, the rope thimble will be suited for indoor or low-corrosive environments and meet the performance requirements of EN13411-1.
Material: High Tensile Steel
Surface: Electro-Galvanized (Zinc Plated)
Size: From 2.5mm to 42mm
Standard: DIN Type
Brand: Unbranded/Generic
Application: Overhead Lifting, Lashing, Towing
Specification:

| | |
| --- | --- |
| MOQ | 1 Pallet, 1 Ton or 3000USD |
| Material | High Tensile Carbon Steel |
| Surface finish | Electro-Galvanized (Zinc Plated) |
| Sizes | From 2.5mm to 28mm |
| Technique Procedure | Machining |
| Standard | EN13411-1 |
| HS code | 732690 |
Key Features:
It is typically used in static applications such as a permanent installation because there are no enough edges like the heavy duty thimble to grossly over-sized to protect the handle and protect the rope sling, ideal for permanent wire rope thimble installation application. Check out this article about: The Complete Guide To Wire Rope Thimble
Wire rope thimble HS Code: 732690

Wire rope thimble installation
Multiply the actual cable size.
Insert the ropes into the thimble tube.
Hold onto bearing anchor point at the end of the thimble with sleeves or wire rope clips to prevent fraying caused by friction.
Check out this article more about Wire rope thimble installation
Shipping and Payment Term:
We generally ship cargos worldwide by sea. The goods will be in a shipping container when arriving at the port. You are responsible for picking up your shipment and customs clearance on your side.
We do accept small, urgent orders that need to be shipped by air.
We currently accept T/T & L/C.
Please contact us if you have any questions about shipping or payment, we will be happy to assist you.
The Din6899 B wire rope thimble dimensions is from 2.5mm to 42mm, ideal for indoor environment can offer resistance to corrosion on the surface.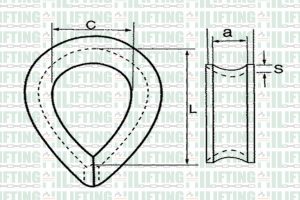 Part No.
Diameter Rope (mm.)
Weight  100PCS (kgs.)
Dimensions(mm)
A
B
C
D
hlt6899B0205
2.5
0.5
3
19
12
1.6
hlt6899B0003
3.5
0.8
4
21
13
1.6
hlt6899B0004
4
1
5
23
14
1.9
hlt6899B0005
5
1.6
6
25
16
2.4
hlt6899B0006
6
1.9
7
28
18
2.4
hlt6899B0007
7
3
8
32
20
2.8
hlt6899B0009
9
4.7
10
38
24
3.1
hlt6899B0011
11
6.8
12
45
28
3.3
hlt6899B013A
13
8
13
48
30
3.3
hlt6899B013B
13
10
14
51
32
3.7
hlt6899B0015
15
14.5
16
58
36
3.8
hlt6899B0016
16
20
18
64
40
4.7
hlt6899B0017
17
18
17
61
38
4.7
hlt6899B0018
18
29
20
72
45
5.7
hlt6899B0020
20
32
22
80
50
5.7
hlt6899B0022
22
47
24
90
56
6.5
hlt6899B0024
24
59
26
99
62
6.8
hlt6899B0026
26
80
28
112
70
8
hlt6899B0028
28
110
30
120
75
8
hlt6899B0030
30
123
32
128
80
8
hlt6899B0032
32
156
34
152
95
8.5
hlt6899B0034
34
176
36
160
100
8.5
hlt6899B0036
36
192
38
176
110
8.5
hlt6899B0038
38
292
40
184
115
10.5
hlt6899B0040
40
320
42
192
120
10.5
hlt6899B0042
42
364
45
240
150
10.5