Tube Rope Thimble
Tube wire rope thimble without gusset is also known as semi-closed thimble, it is a heavy duty rope thimble with thermoplastic powder coating.
It is made from high tensile carbon steel, stamping and powder coating, meets or exceeds the performance requirements of EN13411-1 and meets the performance requirements of Federal Specification FF-T-276b Type III and EN13411-1:2002.
Material: High Tensile Steel
Surface: Hot Dipped Galvanized/Powder coated
Size: From 10mm to 52mm
Standard: EN Type
Brand: Unbranded/Generic
Application: Overhead Lifting, Lashing, Towing
Specification:

| | |
| --- | --- |
| MOQ | 1 Pallet, 1 Ton or 3000USD |
| Wire rope thimble material | High Tensile Carbon Steel |
| Surface finish | Hot Dipped Galvanized or Electro-galvanized |
| Wire rope thimble sizes | From 10mm to 52mm |
| Technique Procedure | Machining |
| Standard | EN13411-1 |
| Wire rope thimble HS code | 732690 |
Key Features:
It can offer superior corrosion resistance than other wire rope thimbles, to protect wire rope, especially synthetic ropes against abrasion and deformation at the ends, longer service life.. Check out this article about: The Complete Guide To Wire Rope Thimble
Can be used with synthetic rope, like Spectra and Dyneema with high performance in the environments of outdoor or marine and fishing.
Wire rope thimble HS Code: 732690

Tube Rope Steel Cable Thimble Packing:

Tube Synthetic Rope Thimble Application:

Different types of wire rope thimbles
Wire rope thimbles are available in a variety of strengths and materials, but mainly they come in two different duty grades.
Light duty: Our light duty thimbles are all zinc plated, can be used in static applications.
Heavy Duty: Our heavy duty rope thimbles are hot dip galvanized, which can create thicker coating than light duty thimbles, see our post on Surface Finish: 4 Common Types You Should Know
If you use it in high moisture or corrosive environments, recommend our stainless steel wire rope thimbles which can offer resistance to corrosion on the surface, particularly in marine applications.
Check out this article about The Complete Guide To Wire Rope Thimble.
Shipping and Payment Term:
We generally ship cargos worldwide by sea. The goods will be in a shipping container when arriving at the port. You are responsible for picking up your shipment and customs clearance on your side.
We do accept small, urgent orders that need to be shipped by air.
We currently accept T/T & L/C.
Please contact us if you have any questions about shipping or payment, we will be happy to assist you.
The tube nylon rope thimbles dimensions is from 10mm to 52mm, It is much stronger than other standard thimbles and offers much better protection for the rope eye of the winch rope thimble. If added gusset on the nylon rope thimbles, there will be even much stronger and prevents the sling eye from crushing under load.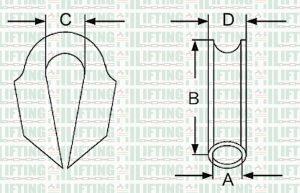 Part No.
Diameter Rope (mm.)
Weight/PC (kgs.)
Dimensions(mm)
A
B
C
D
hlt47400010
10
0.25
12
90
23
4
hlt47400012
12
0.42
15
105
27
5
hlt47400014
14
0.5
17
115
27
4
hlt47400016
16
0.6
19
120
32
6
hlt47400018
18
0.75
22
140
35
6
hlt47400022
22
1.4
25
180
45
6.3
hlt47400024
24
1.75
28
180
45
7
hlt47400026
26
2
30
195
47
7
hlt47400032
32
2.4
35
215
60
7
hlt47400038
38
3.3
45
260
70
7
hlt47400052
52
5.5
55
298
85
7