BS464 Wire Rope Thimble
Material: High Tensile Steel

Surface: Hot Dipped Galvanized

Application: Overhead Lifting, Lashing, Towing
BS464 Wire Rope Thimble Specification:

| | |
| --- | --- |
| MOQ | 1 Pallet, 1 Ton or 3000USD |
| Wire rope thimble material | High Tensile Carbon Steel |
| Surface finish | Hot Dipped Galvanized |
| Wire rope thimble sizes | From 8mm to 70mm |
| Technique Procedure | Machining |
| Standard | EN13411-1 and the withdrawn standard BS464 |
| Wire rope thimble HS code | 732690 |
BS464 Steel Cable Thimble Key Features:
BS 464 wire rope thimble is a heavy duty steel thimble can create reinforce loop eye with more strength, sturdiness, and crush resistance, used to protect the rope eyelet against pinching and abrading, can greatly extend its working life.
Made from high tensile carbon steel, and manufactured to a standard EN13411-1 and the withdrawn standard BS464, we also have US type heavy duty wire rope thimble for your option.
Meets the performance requirements of Federal Specification FF-T-276b Type III and EN13411-1:2002.
Heavy duty rope thimbles are hot dip galvanized, which can create thicker coating than light duty thimbles, see our post on Surface Finish: 4 Common Types You Should Know
Wire rope thimble HS Code: 732690

BS464 Steel Cable Thimble Packing:

How to use wire rope thimble?
To know the right rope thimble size to the cable, for example when you are using 1/2″ uncoated rope cable, use a 1/2″ wire rope thimble.
Make sure that the cable thimbles size properly and securely fastened in the eye of the loop, not too loose or too tighten, so they can create an extra layer of support to connect with other properly sized rigging fittings.
While you are using a vinyl coated cable, you should multiply the actual size of the cable, usually use a larger size thimble than normal, for the actual diameter is the thickness of the vinyl coating plus the inside wire rope diameter. For example, if you are using a 5/16″ vinyl coated cable that is coated to 3/8″ diameter, you'd want to use a 3/8″ wire rope thimble.
Check out this article about The Complete Guide To Wire Rope Thimble.
Shipping and Payment Term:
We generally ship cargos worldwide by sea. The goods will be in a shipping container when arriving at the port. You are responsible for picking up your shipment and customs clearance on your side.
We do accept small, urgent orders that need to be shipped by air.
We currently accept T/T & L/C.
Please contact us if you have any questions about shipping or payment, we will be happy to assist you.
BS464 wire rope thimble dimensions is from 8mm to 70mm, meets or exceeds the performance requirements of EN13411-1 and the withdrawn standard BS464.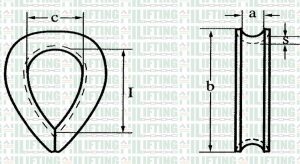 Part No.
Diameter Rope (mm.)
Weight  100PCS (kgs.)
Dimensions(mm.)
A
B
I
C
S
hlt464008
8
6
8
52
33
23
4
hlt464010
10
7.6
10
64
38
25
4.8
hlt464012
12
18.9
14
80
44
32
5.6
hlt464016
16
34
16
98
59
41
7.9
hlt464019
19
62.4
21
124
73
51
9.5
hlt464022
22
75.6
22
133
83
57
9.5
hlt464024
24
105.7
25
146
92
64
10.3
hlt464026
26
124.7
27
162
108
70
10.3
hlt464028
28
151
29
178
111
76
12.7
hlt464032
32
204
33
197
133
95
12.7
hlt464038
38
488
41.3
254
165.1
114.3
17.5
hlt464042
42
499
42.9
254
165.1
114.3
17.5
hlt464045
45
565
50.8
285.8
177.8
127
25.4
hlt464048
48
640
60.3
317.5
190.5
133.4
28.6
hlt464051
51
660
63.5
330.2
203.2
139.7
28.6
hlt464056
56
–
66.7
356.6
215.9
146
30.2
hlt464063
63
–
69.3
412.8
241.3
158.8
31.8
hlt464070
70
–
85.7
501.6
273
203.2
41.3
You can also reach us by completing the form below: