Ratchet Type Load Binder 140
Ratchet load binders 140 is a ratchet chain binder, this chain-tensioning device uses a ratcheting action to fast tighten chain to secure and tie down large loads, no need much strength like lever load binder to secure cargo.
Made from alloy Steel, then drop forged, machining, quenched & tempered. Sizes ranging from 1/4″-5/16″ to 1/2"-5/8", safety factor is 3.5 :1.
Material: High Tensile Steel
Surface: Powder Coating
W.L.L: From 2200 lbs to 13000 lbs
Size: From 1/4″-5/16″ to 1/2″-5/8″
Standard: US Type
Brand: Unbranded/Generic
Application: Overhead Lifting, Lashing, Towing
Specifications:

| | |
| --- | --- |
| MOQ | 1 Pallet, 1 Ton or 3000USD |
| Load binder material | Alloy Steel |
| Surface finish | Hot Dipped Galvanized/Powder coated |
| Load binder sizes | From 1/4″-5/16″ to 1/2"-5/8" |
| Technique Procedure | Drop Forged, Machining, Quenched and Tempered |
| Safety Factor | 3.5 : 1 |
| Load binder HS code | 820559 |
Key Features:
Consists of a ratchet handle and a heat-treated steel hook on each end, the ratchet device can faster and easier to tie down and re-secure big loads, without extra tools.
Check out this article about: Chain Binder Tips To Consider Before Buying.
Load binder HS code: 820559

Workshop: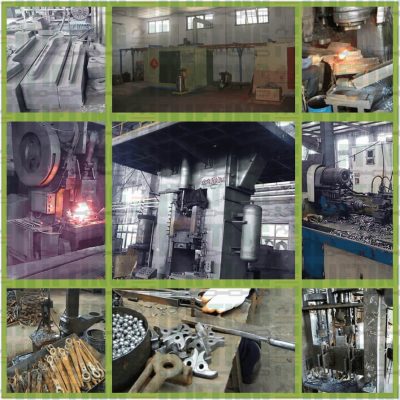 Packing: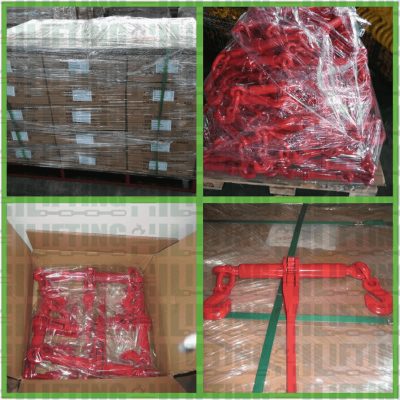 Applications:

Shipping and Payment Term:
We generally ship cargos worldwide by sea. The goods will be in a shipping container when arriving at the port. You are responsible for picking up your shipment and customs clearance on your side.
We do accept small, urgent orders that need to be shipped by air.
We currently accept T/T & L/C.
Please contact us if you have any questions about shipping or payment, we will be happy to assist you.
The ratcheting load binder with handle and eye grab hooks size from 1 4 inch ratcheting load binder(Grade 70 Chain)-5 16 ratchet load binder(Grade 43 Chain) to 1/2″(Grade 70 Chain)-5/8″(Grade 43 Chain) , has working load limit from 2200 lbs to 13000 lbs.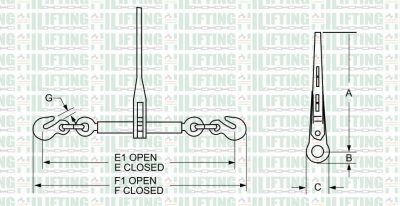 Part No.
Min-Max Chain Size (in.)
Working Load Limited (lbs.)
Proof Load (lbs.)
Min Ultimate Load (lbs.)
Weight/Each (kgs.)
Handle Length (in.)
Dimensions (in.)
A
B
C
E
E1
F
G
hlt1400068
1/4-5/16
2200
4400
7800
1.600
7.16
7.16
0.89
1.77
16.22
21.62
17.79
0.35
hlt1400810
5/16-3/8
5400
10800
19000
4.891
13.42
13.92
1.30
2.60
22.64
30.64
25.24
0.51
hlt1400810A
5/16-3/8
6600
10800
19800
4.891
13.42
13.92
1.30
2.60
22.64
30.64
25.24
0.51
hlt1401013
3/8-1/2
9200
18400
33000
5.864
13.92
13.92
1.30
2.60
24.13
32.13
27.04
0.59
hlt1401316
1/2-5/8
13000
26000
46000
6.536
13.92
13.92
1.30
2.60
26.45
34.45
30.07
0.74