Stainless Steel Eye Bolts DIN580
Material: AISI 316 / AISI 304

Surface: High polished finish

Application: Lifting, Lashing, Towing
Stainless Steel Lag eye bolts Key Features:

| | |
| --- | --- |
| MOQ | 1 Pallet, 1 Ton or 3000USD |
| Din580 stainless eye bolts material | grade 316 or 304 stainless steel |
| Surface finish | High polished finish |
| Din580 stainless sizes | From M6 to M36 |
| Technique Procedure | Forged or Cast |
| Din580 stainless eye bolts HS code | 732690 |
Din 580 stainless eye bolts are metric eye bolts, with metric coarse right-hand threads, features tough, durable, and corrosion-resistant, ideal for maritime use, outdoor projects and allotments in addition to sail boat rigging corrosive environments.
Made from AISI 316 high polished finish stainless steel with tough, durable, and corrosion-resistant features, ideal for the garden, outhouse, shed, or barn, we also have Stainless Steel Eye Nut DIN582 for your option.
Stainless steel eye bolts are to attach ropes or cables to a fixed structure, threaded on one end for a more secure fit, making them a perfect choice for a variety of different purposes.
Din580 stainless eye bolts HS code: 732690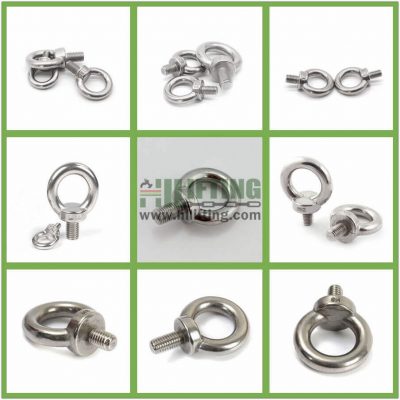 Din580 Stainless Eye Bolts Packing:
Shipping and Payment Term:
We generally ship cargos worldwide by sea. The goods will be in a shipping container when arriving at the port. You are responsible for picking up your shipment and customs clearance on your side.
We do accept small, urgent orders that need to be shipped by air.
We currently accept T/T & L/C.
Please contact us if you have any questions about shipping or payment, we will be happy to assist you.
Stainless steel lifting eye bolt Din 580 can provide superior strength and quality. It comes with coarse thread dimensions of M6 to M 36. They are imbibed with safe working load specification and provide a comprehensive solution. We ensure that the design and working of the device is optimum safety.
Part No.
Size  (mm.)
Dimensions(mm.)
WT (kgs.)
A
B
C
D
E
F
H
hlt0080-0006
M6
6
16
27
16
6
13
25
0.022
hlt0080-0008
M8
8
19
35
20
6
15
30
0.045
hlt0080-0010
M10
10
25
45
25
8
17
37
0.091
hlt0080-0012
M12
12
29
52
30
10
22
43
0.147
hlt0080-0016
M16
16
33
63
35
12
27
50
0.278
hlt0080-0020
M20
20
38
69
40
14
28
57
0.341
hlt0080-0024
M24
24
46
87
50
18
38
72
0.689
hlt0080-0027
M27
27
65
108
60
22
45
87
1.1
hlt0080-0030
M30
30
59
106
60
22
45
87
1.349
hlt0080-0036
M36
36
73
124
70
26
52
102
2.279
You can also reach us by completing the form below: