Stainless Steel Lag Eye Bolt
Stainless steel lag eye bolts are a stainless eye bolt with wood screw thread, unwelded eye, and a sharp, tapered point which is for ease of screwing into wood and ideal for gardening, plant training, trellis, vine eyes and more.
Material: AISI 316 / AISI 304
Surface: High polished finish
Size: From M5 to M12
Standard: Lag Eye Bolt Type
Brand: Unbranded/Generic
Application: Lifting, Lashing, Towing
Stainless Steel Lag eye bolts Key Features:

| | |
| --- | --- |
| MOQ | 1 Pallet, 1 Ton or 3000USD |
| Material | grade 316 or 304 stainless steel |
| Surface finish | High polished finish |
| Sizes | From M5 to M12 |
| Technique Procedure | Cast |
| HS code | 732690 |
Made from AISI 316 high polished finish stainless steel with tough, durable, and corrosion-resistant features, ideal for the garden, outhouse, shed, or barn, we also have other stainless eye bolts for your option.
Please include a wall plug while screwing into lag anchors, concrete, or masonry.
Stainless lag eye bolts HS code: 732690

Lag Stainless Steel Wood Screw Thread Eye Bolt Packing: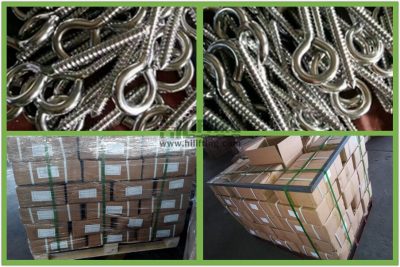 Shipping and Payment Term:
We generally ship cargos worldwide by sea. The goods will be in a shipping container when arriving at the port. You are responsible for picking up your shipment and customs clearance on your side.
We do accept small, urgent orders that need to be shipped by air.
We currently accept T/T & L/C.
Please contact us if you have any questions about shipping or payment, we will be happy to assist you.
Stainless lag eye bolt wooden screw are available in sizes 5mm, 6mm, 8mm, 10mm, 12mm, they're ideal for many leisure activities like sailing and camping, as well as for industrial purposes.
Part No.
Size  (mm.)
Dimensions(mm.)
WT (kgs.)
Φ
L
L1
A
hlt0084-0540
M5x25
5
30
25
10
0.007
hlt0084-0570
M5x70
6
80
70
13
0.019
hlt0084-06100
M6x100
6
110
100
13
0.023
hlt0084-0876
M8x76
8
90
76
16
0.046
hlt0084-08100
M8x100
8
130
100
16
0.057
hlt0084-1075
M10x75
10
90
75
20
0.068
hlt0084-12100
M12x100
12
120
100
25
0.16
hlt0084-12150
M12x150
12
165
150
25
0.19