US Type Eye Slip Hook 324
Eye slip hook 324 Features an eye type ends must be attached with a connecting link or other high load connection device, also sometimes called a sling hook due to its wider throat, which is wider than eye grab hook, it is easily connected to load binding, shorten or hold as an end on a transport chain or lower working load limit equal chains. , we also have clevis slip hook 331 for your option.
Material: High Tensile Steel C1045(#45) / Alloy Steel
Surface: Electric Galvanized / Hot Dipped Galvanized / Powder Coating
W.L.L: From 1950 lbs to 19250 lbs
Size: From 1/4″ to 3/4″
Standard: US Type
Safety Factor: 6:1 or 4:1
Brand: Unbranded/Generic
Application: Overhead Lifting, Lashing, Towing
Eye Slip Hook Specifications:

MOQ
1 Pallet, 1 Ton or 3000USD
Material
Alloy Steel / High Tensile Steel
Surface finish
Hot Dipped Galvanized/Powder coated
Sizes
From 1 4 clevis grab hook to 3 / 4
Technique Procedure
Body : Drop Forged / Quenched and Tempered

Latch : Stamping

Safety Factor
5 : 1 / 4:1 Grade 43 or Grade 70
HS code
732690
Descriptions:
Commonly used for making quick connections with chains in towing, pulling and securing applications, not used for overhead lifting, is sized by the chain diameter that each is used with.
Stamped with "G70" or "G43" for easy identified and very common on transport chain and high test chain ends, specifically for grade 70 transport chain and grade 43 high test chain.
Made to meet the performance requirements of U.S. Federal Specification, with a proof load tested at 2 times the Working Load Limit and Breaking Load is 6 times the Working Load Limit
Eye slip hook 324 HS code: 732690

Workshop:
Shipping and Payment Term:
We generally ship cargos worldwide by sea. The goods will be in a shipping container when arriving at the port. You are responsible for picking up your shipment and customs clearance on your side.
We do accept small, urgent orders that need to be shipped by air.
We currently accept T/T & L/C.
Please contact us if you have any questions about shipping or payment, we will be happy to assist you.
US Type slip eye hook dimensions and capacity are from 1/4″ to 3/4″, which meet the requirements of U.S. Federal Specification.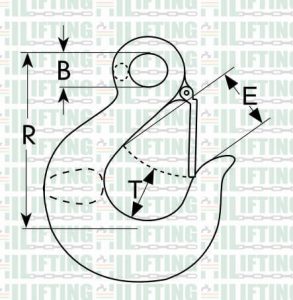 Part No.
Chain Size (in.)
W.L.L.(lbs.)
Dimensions(in.)
W.T.(lbs.)
324C
324A
324C
324A
B
E
R
T
hlt3240014C
hlt3240014A
1/4
1950
2750
0.50
0.75
2.56
0.79
0.42
hlt3240516C
hlt3240516A
5/16
2875
4300
0.63
0.88
2.95
0.79
0.72
hlt3240038C
hlt3240038A
3/8
4000
5250
0.72
1.10
3.36
1.02
1.03
hlt3240716C
hlt3240716A
7/16
5000
7000
0.81
1.25
3.88
1.06
1.64
hlt3240012C
hlt3240012A
1/2
6500
9000
0.94
1.38
4.28
1.30
2.45
hlt3240058C
hlt3240058A
5/8
9250
13500
1.13
1.45
5.22
1.53
4.13
hlt3240034C
hlt3240034A
3/4
12500
19250
1.38
1.59
5.80
1.62
6.76