US Type G414 Stainless Steel Wire Rope Thimbles
Material: AISI 316 / AISI 304

Surface: High polished finish

Size: From 1/4″ to 2-1/4″

Application: Lifting, Lashing, Towing
US Type Heavy Duty Stainless Steel Wire Rope Thimbles Key Features:

| | |
| --- | --- |
| MOQ | 1 Pallet, 1 Ton or 3000USD |
| Stainless steel thimble material | grade 316 or 304 stainless steel |
| Surface finish | High polished finish |
| Stainless steel thimble sizes | From 1/4″ to 2-1/4″ |
| Technique Procedure | Forged or Precision cast |
| Stainless steel thimble HS code | 732690 |
These stainless wire rope thimbles supply extra strength for forming reinforced eyes or loops to protects wire ropes from pinching and abrading on the inside of the loop and preserve the natural shape and much easier to attach other rigging accessories(ferrules, shackles, terminals, etc.), so we called them heavy duty stainless steel rope thimbles, we also have light duty stainless steel thimble for your option.
Check out this article about: The Complete Guide To Wire Rope Thimble
Come in 316 marine grade stainless steel for added resistance to high moisture or corrosive environments and conform to US Federal Specification, ideal for the marine and industrial rigging applications.
Stainless steel thimble HS Code: 732690

Stainless Steel g414 Wire Rope Steel Cable Thimble Packing: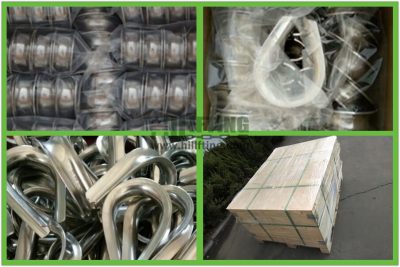 Shipping and Payment Term:
We generally ship cargos worldwide by sea. The goods will be in a shipping container when arriving at the port. You are responsible for picking up your shipment and customs clearance on your side.
We do accept small, urgent orders that need to be shipped by air.
We currently accept T/T & L/C.
Please contact us if you have any questions about shipping or payment, we will be happy to assist you.
Heavy duty stainless steel wire rope thimbles are available in sizes ranging from 1/4″ to 2-1/4″ to provide amazing corrosion protection from salt water and harsh weather conditions.
Part No.
Size  (in.)
Dimensions(in.)
A
B
C
D
E
F
G
H
hlt0048-0006
1/4"
2.19
1.63
1.5
0.88
0.41
0.28
0.06
0.23
hlt0048-0008
5/16"
2.5
1.88
1.81
1.06
0.5
0.34
0.08
0.28
hlt0048-0010
3/8"
2.88
2.13
2.13
1.13
0.63
0.41
0.11
0.34
hlt0048-0011
7/16"
3.25
2.38
2.38
1.25
0.72
0.47
0.13
0.38
hlt0048-0012
1/2"
3.63
2.75
2.75
1.5
0.81
0.53
0.14
0.41
hlt0048-0015
9/16"
3.63
2.75
2.69
1.5
0.88
0.59
0.14
0.41
hlt0048-0016
5/8″
4.25
3.25
3.13
1.75
0.97
0.66
0.16
0.5
hlt0048-0020
3/4"
5
3.75
3.81
2
1.22
0.78
0.22
0.66
hlt0048-0022
7/8"
5.5
4.25
4.25
2.25
1.38
0.94
0.22
0.75
hlt0048-0025
1″
6.13
4.5
4.94
2.5
1.56
1.06
0.25
0.88
hlt0048-0028
1-1/8″-1-1/4″
7
5.13
5.88
2.88
1.81
1.31
0.25
1.13
hlt0048-0032
1-1/4″-1-3/8″
9.06
6.5
6.81
3.5
2.19
1.44
0.38
1.13
hlt0048-0035
1-3/8″-1-1/2″
9
6.25
7.13
3.5
2.56
1.56
0.5
1.13
hlt0048-0041
1-5/8″
11.25
8
8.13
4
2.72
1.72
0.5
1.38
hlt0048-0044
1-3/4″
12.19
9
8.5
4.5
2.84
1.84
0.5
1.31
hlt0048-0048
1-7/8″
15.13
12
10.38
6
3.09
2.09
0.5
1.5
hlt0048-0057
2-1/4″
17.13
14
11.88
7
3.63
2.38
0.63
1.63
You can also reach us by completing the form below: