US Type Drop Forged G450 Wire Rope Clip
Surface: Hot Dipped Galvanized

Size: From 1/8″ to 3-1/2″

Application: Overhead Lifting, Lashing, Towing
US Type Drop Forged Wire Rope Clips Specification:

| | |
| --- | --- |
| MOQ | 1 Pallet, 1 Ton or 3000USD |
| Wire rope clip material | High Tensile Carbon Steel(C1045) |
| Surface finish | Wire rope clip saddle is Hot Dipped Galvanized, U-bolt and nuts are Electro-galvanized |
| Wire rope clip sizes | From 1/8 wire rope clip to 3-1 2 wire rope clamp |
| Technique Procedure | Drop Forged, Machining, Quenched and Tempered |
| Standard | US Federal Specification FF-C-450 |
| Wire rope clip HS code | 732690 |
US Type g450 Wire Rope Clip Key Features:
Made by high quality carbon steel, is also called as heavy duty wire clamps, for the wire rope clamp saddle forming by the punching machine, forging and the heating process can make it higher tensile strength, we also have malleable wire rope clip for your option.
Meets othe performance requirements of Federal Specification FF-C-450 TYPE 1 CLASS 1.
Ideal for important or critical applications where assurance of strength, especially sustaining overhead loads purposes. It is durable and will last considerably longer in using outdoor conditions. Check out this article about: A Complete Guide to Wire Rope Clips
The metal wire clamp approximate failure load is 80%~90% of the cable's breaking load
**Suitable for sustaining overhead loads lifting, lashing and towing**
Wire rope clamp HS Code: 732690

Shipping and Payment Term:
We generally ship cargos worldwide by sea. The goods will be in a shipping container when arriving at the port. You are responsible for picking up your shipment and customs clearance on your side.
We do accept small, urgent orders that need to be shipped by air.
We currently accept T/T & L/C.
Please contact us if you have any questions about shipping or payment, we will be happy to assist you.
US type g450 wire rope clip wire rope clip dimensions are suit for the diameter rope from 1/8″ to 3 1/2″ and meet the requirements of US spec FFC450 Type 1 Class 1(EN BS 13411-5 )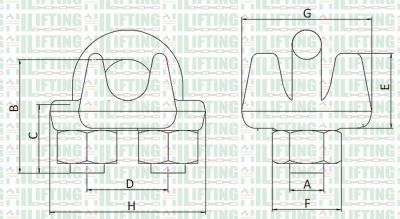 Part No.
Diameter Rope
Weight  100PCS (lbs.)
Dimensions(in.)
(in.)
(mm.)
A
B
C
D
E
F
G
H
hlt4500003
1/8″
3-4
6
0.22
0.72
0.44
0.47
0.37
0.38
0.81
0.99
hlt4500605
3/16″
5
10
0.25
0.97
0.56
0.59
0.5
0.44
0.64
1.18
hlt4500006
1/4″
6-7
19
0.31
1.03
0.5
0.75
0.66
0.56
1.19
1.43
hlt4500008
5/16″
8
28
0.38
1.38
0.75
0.88
0.73
0.69
1.31
1.66
hlt4500009
3/8″
9-10
48
0.44
1.5
0.75
1
0.91
0.75
1.63
1.94
hlt4500011
7/16″
11
78
0.5
1.88
1
1.19
1.13
0.88
1.91
2.28
hlt4500012
1/2″
12-13
8
0.5
1.88
1
1.19
1.13
0.88
1.91
2.28
hlt4500014
9/16″
14-15
109
0.56
2.25
1.25
1.31
1.34
0.94
2.06
2.5
hlt4500016
5/8″
16
110
0.56
2.25
1.25
1.31
1.34
0.94
2.06
2.5
hlt4500018
3/4″
18-20
142
0.62
2.75
1.44
1.5
1.39
1.06
2.25
2.84
hlt4500022
7/8″
22
212
0.75
3.12
1.62
1.75
1.58
1.25
2.44
3.16
hlt4500024
1″
24-26
252
0.75
3.5
1.81
1.88
1.77
1.25
2.63
3.47
hlt4500028
1-1/8″
28-30
283
0.75
3.88
2
2
1.91
1.25
2.81
3.59
hlt4500032
1-1/4″
32-34
438
0.88
4.44
2.22
2.31
2.17
1.44
3.13
4.13
hlt4500036
1-3/8″
36
442
0.88
4.44
2.22
2.38
2.31
1.44
3.13
4.19
hlt4500038
1-1/2″
38
544
0.88
4.94
2.38
2.59
2.44
1.44
3.41
4.44
hlt4500041
1-5/8″
41-42
704
1
5.31
2.62
2.75
2.66
1.63
3.63
4.75
hlt4500044
1-3/4″
44-46
934
1.13
5.75
2.75
3.06
2.92
1.81
3.81
5.24
hlt4500048
2″
48-52
1300
1.25
6.44
3
3.38
3.28
2
4.44
5.88
hlt4500056
2-1/4″
56-58
1600
1.25
7.13
3.19
3.88
3.19
2
4.56
6.38
hlt4500062
2-1/2″
62-65
1900
1.25
7.69
3.44
4.13
3.69
2
4.05
6.63
hlt4500068
2-3/4″
68-72
2300
1.25
8.31
3.56
4.38
4.88
2
5
6.88
hlt4500075
3″
75-78
3100
1.5
9.19
3.88
4.75
4.44
2.38
5.31
7.61
hlt4500085
3-1/2″
85-90
4000
1.5
10.75
4.5
5.5
6
2.38
6.19
8.38
You can also reach us by completing the form below: