When you are carrying out rigging jobs that involve shackles, it is very important to the right type of shackle for your application. With the right shackle, you can achieve your rigging goals in a safe and efficient manner and complete the job without incident.
What's a shackle?
A shackle is a jaw or u shaped connecting link, which is designed to connect the lifting slings, wire rope, chain, and rope for a variety of rigging, lifting, pulling, and hoisting applications. The removable pin design is perfect for temporary lifting jobs or quick connect and disconnect.
How many different types of shackles?
Let's identify the different parts of a shackle first, you can refer to the below sketch to know terms like "body" and "pin"
Shackles come in a number of a wide variety of types, styles, and sizes. It can be confusing to choose the right shackle for your rigging jobs, the shape of the shackle's body is a major determinant of how it can be used, we just outline some of the basic differences between the most common types of shackles in this article.
So basically there are four types of shackles, with 2 types of shackles body and 2 types of shackle pins.
chain shackle vs anchor shackle (bow shackle vs d shackle)
Anchor Shackles / Bow Shackles
The terms anchor shackles and bow shackles are both used interchangeably, feature a large rounded shape that increased area on the inside of the shackle body and allows them to take loads from many directions without developing significant side load. That makes them ideal for use with multiple-leg slings, connecting slings to load rings, and accommodating a wider strap.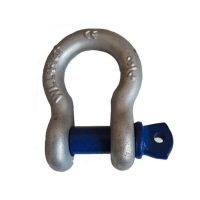 Chain Shackles / D Shackles
Chain shackle is referred to as D shackle/Dee shackle, due to the "D" shape design body. "D" (chain) shackles are generally used to join two pieces rated for in-line tension, while bow (anchor) shackles are typically employed where more than one attachment has to be made to the body, for side and racking loads may twist or bend the chain shackle.
Shackle Pin Types: Screw pin shackles vs Bolt type shackles
The shackle pin types are the deciding factors on which shackle will work best for your application.
Screw pin shackles are suitable for quick-to-assemble to connect or disconnect the two-component items, for you can easily and quickly thread the pin insert through the ears and tighten it down. They can be used with little risk of the pin becoming unscrewed during the lifting operation and are not recommended for permanent or long-term installations.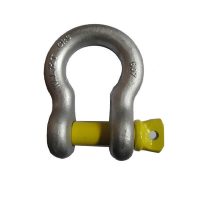 Bolt-type shackles are also referred to as safety pin shackles, for the combination of a bolt/nut/cotter pin and the split retaining pin cannot unscrew in service, it is a more secure choice than screw pin shackle, and can be used in any application especially in lifting purposes that use a round pin or a screw pin.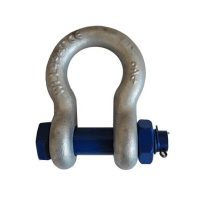 The screw pin anchor shackle is used for static loads, side loading, and multi-leg directions, while bolt-type anchor shackles are for applications where there may be movement or remain connected for semi-permanent or long-term.
If you want to get more useful knowledge about the types of shackles, you can contact us by email at info@hilifting.com. We will be glad to share with you more useful information.
Hello, customers
My name is William Yang, I'm the business manager of Hilifting. I have been in Rigging industry for more than 10 year. Feel free to contact us. I'm happy to provide you the best service and products.