AS 2741 (Australian) Type Grade S Bow Shackle With Safety Pin
Grade S Bow Shackle With Safety Pin is marked Grade "S" / "6" on the top of the shackle, the mark "S" means that it is an Alloy Grade "S" for lifting shackles and the number "6" indicates that it is compliant with European standard.an all load rated shackle.
Hilifting high strength shackles sizes we offered, is from 13mm to 102mm with strengths ranging from 2 tonnes to 150 tonnes, which are manufactured a.c.c the requirements of AS 2741-2002 and European Standard EN13889-2003
Material: High Tensile Steel
Surface: Hot Dipped Galvanized
W.L.L: From 2 Tons to 150 Tons
Size: From 13mm to 102mm
Standard: AS2741 Type
Safety Factor: 6:1 Grade "S"
Brand: Unbranded/Generic
Application: Overhead Lifting, Lashing, Towing
Specification:

MOQ
1 Pallet, 1 Ton or 3000USD
Material
Body Carbon Steel(#45), Screw Pin Alloy Steel
Surface finish
Body: Hot Dipped Galvanized
Screw Pin: Powder Coated
Sizes
From 13mm 2 ton to 102mm 150 ton shackle
Technique Procedure
Body: Drop Forged / Quenched and Tempered

Screw Pin: Hot/Cold forging / Drop Forged / Quenched and Tempered

Safety Factor
6 : 1
HS code for shackle
732690
Description:
Can be easily identified and traceable, for individually rated and stamped to conform to Australian Standard AS 2741-2002 "Shackles", marked with working load limit in tonnes(i.e. W.L.L. 2T), quality grade("M"/ "4", "S" / "6"), batch numbered(11/12), nominal size in mm(13 mm ) and supplier identification.
The safety pin is commonly powder coated in Yellow, also can be customized painting in your requests.
Used mainly in a one-leg system while bow type shackles are used in multi-leg systems, they are used for long term or permanent applications and in circumstances where the safety rated bow shackles may rotate during loading.
HS Code for shackle: 732690

Shipping and Payment Term:
We generally ship cargos worldwide by sea. The goods will be in a shipping container when arriving at the port. You are responsible for picking up your shipment and customs clearance on your side.
We do accept small, urgent orders that need to be shipped by air.
We currently accept T/T & L/C.
Please contact us if you have any questions about shipping or payment, we will be happy to assist you.
The shackle swl and sizes are the same with alloy bow shackles: From 13mm 2 ton to 102mm 150 ton shackle, meets the requirements of AS 2741-2002.
Forging tolerances: +- 5%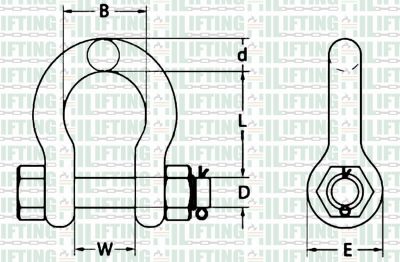 Part No.
Nominal
Size(mm)
WLL
Dimensions(mm)
Approx Weight
d
(Tonnes)
B
D
e
L
W
kg
hlt2741213013
13
2
33
16
33
48
21
0.36
hlt2741213016
16
3.2
43
19
40
61
27
0.76
hlt2741213019
19
4.7
51
22
48
82
32
1.23
hlt2741213022
22
6.5
58
25
54
84
37
1.79
hlt2741213025
25
8.5
68
29
60
95
43
2.78
hlt2741213029
29
9.5
74
32
67
108
46
3.75
hlt2741213032
32
12
83
35
76
119
52
5.31
hlt2741213035
35
13.5
92
38
84
133
57
6.98
hlt2741213038
38
17
98
44
92
146
60
9.44
hlt2741213044
44
25
127
51
110
178
73
15.39
hlt2741213051
51
35
146
57
127
197
83
23.71
hlt2741213057
57
42.5
160
63
143
222
95
29.01
hlt2741213063
63
55
184
70
152
267
105
44.58
hlt2741213076
76
85
200
83
165
330
127
69.87
hlt2741213089
89
120
241
95
203
381
153
129.31
hlt27412130102
102
150
279
108
229
432
165
153.36