European Type Large Bow Shackle
Material: Low Carbon Steel C1015(#15)

Surface: Electric Galvanized

S.W.L: From 80 kgs to 8000 kgs

Safety Factor: 3:1/3 x S.W.L/ Grade 3

Application: Not For Lifting
European Type Large Bow Shackle Specifications:

| | |
| --- | --- |
| MOQ | 1 Pallet, 1 Ton or 3000USD |
| Large bow shackle material | Low Carbon Steel(C1015) |
| Surface finish | Elcectro-Galvanized(Zinc Plated) |
| Bow shackle dimensions metric | From 5mm  0.08ton to 50mm 8 ton |
| Technique Procedure | Free Forged |
| Shackle Safety Factor | 3 : 1 |
| Shackle HS code | 732690 |
Large Bow Shackle Descriptions:
European type large bow shackle is a commercial and cost effective alternative to the other shackles from our comprehensive range, for untested and manufactured from a base low carbon steel material.
Made out of low carbon steel(C1015), with zinc plated(Electro-Galvanized), usually the M.B.S at 3 times the Safety Working Load. Check this link about the heat treatment process
Large Bow shackle pin diameter is the same as the body's size.
We also have large dee shackle for your option.
D shackle HS Code: 732690

Large Bow Shackle Packing: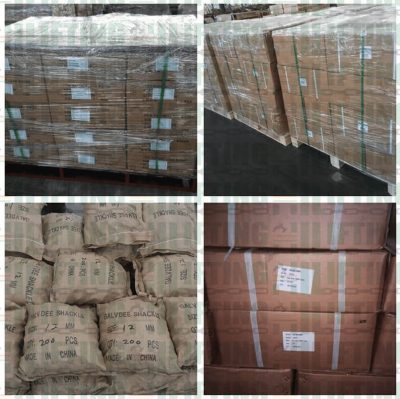 Shipping and Payment Term:
We generally ship cargos worldwide by sea. The goods will be in a shipping container when arriving at the port. You are responsible for picking up your shipment and customs clearance on your side.
We do accept small, urgent orders that need to be shipped by air.
We currently accept T/T & L/C.
Please contact us if you have any questions about shipping or payment, we will be happy to assist you.
The large bow shackle dimensions metric capacity is available from 5mm shackle 0.08 ton to 50mm 8 ton shackle which meet the requirements of En Standard
Forging tolerances: +- 5%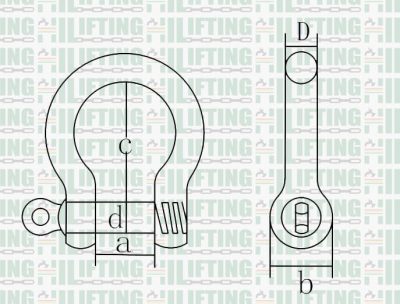 Part No.
Nominal
Size(mm)
Dimensions(mm)
S.W.L.
Weight
per 100 pcs
D
d
a
c
b
KG
KG
hlt31161005
5
5
10
19
11
80
2.2
hlt31161006
6
6
13
25
14
100
4
hlt31161008
8
8
16
32
18
200
8
hlt31161010
10
10
19
38
20
320
15
hlt31161011
11
11
22
44
23
400
20
hlt31161012
12
12
25
51
26
520
30
hlt31161016
16
16
32
64
33
800
58
hlt31161020
20
20
38
76
40
1100
92
hlt31161022
22
22
44
89
50
1500
149
hlt31161025
25
25
51
100
57
2100
230
hlt31161028
28
28
57
115
68
3000
357
hlt31161032
32
32
64
127
73
3500
495
hlt31161038
38
38
76
152
85
5000
805
hlt31161045
45
45
90
180
96
7000
1438
hlt31161050
50
50
102
200
108
8000
2012
You can also reach us by completing the form below: