US Type Jaw And Jaw Stainless Steel Turnbuckle
Jaw stainless steel turnbuckle is made of stainless steel weather-resistant 316 marine grade stainless steel, conforming to US Federal specification.  It features both threaded jaws on either end, we also have US Type Eye And Jaw Stainless Steel Turnbuckle for your option.
Material: AISI 316 / AISI 304
Surface: High-polished finish
Size: From 1/4″×4″ to 1-1/4″×12″
Type: Stainless Steel Turnbuckle Jaw And Jaw
Brand: Unbranded/Generic
Application: Lifting, Lashing, Towing
US Type Jaw And Jaw Stainless Steel Turnbuckle Descriptions:

| | |
| --- | --- |
| MOQ | 1 Pallet, 1 Ton or 3000USD |
| Material | grade 316 or 304 stainless steel |
| Surface finish | High polished finish |
| Sizes | From 1/4″ to 1-1/4″ |
| Technique Procedure | Forged or Cast |
| HS code | 732690 |
Can be simply attached to stainless steel shackles, wire ropes, and other connectors.
Meet the performance requirements of meets US standards.
Jaw and jaw stainless steel turnbuckles HS Code: 732690

Packing: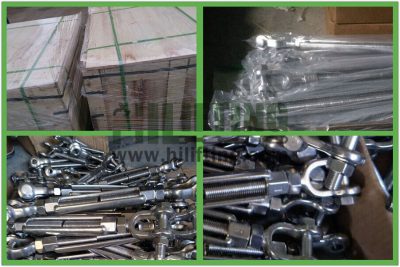 Shipping and Payment Term:
We generally ship cargos worldwide by sea. The goods will be in a shipping container when arriving at the port. You are responsible for picking up your shipment and customs clearance on your side.
We do accept small, urgent orders that need to be shipped by air.
We currently accept T/T & L/C.
Please contact us if you have any questions about shipping or payment, we will be happy to assist you.
US type jaw jaw turnbuckle stainless steel are available in sizes ranging from 1/4″ to 1-1/4″ to fit every project and are made from grade 316 stainless steel for maximum corrosion resistance and durability.

Part No.
Size (in.)
Dimensions(in.)
L
L1
A
B
E
H
hlt0019-0001
1/4″
4
7.58
0.45
0.32
0.78
0.62
hlt0019-0002
5/16″
4.5
8.38
0.49
0.43
0.94
0.87
hlt0019-0003
3/8″
6
10.7
0.53
0.51
1.12
0.87
hlt0019-0004
1/2″
6
11.94
0.67
0.71
1.44
1.06
hlt0019-0005
1/2″
9
14.94
0.67
0.71
1.44
1.06
hlt0019-0006
1/2″
12
17.94
0.67
0.71
1.44
1.06
hlt0019-0007
5/8″
6
13.55
0.81
0.87
1.75
1.31
hlt0019-0008
5/8″
9
16.55
0.81
0.87
1.75
1.31
hlt0019-0009
5/8″
12
19.55
0.81
0.87
1.75
1.31
hlt0019-0010
3/4″
6
15
1.02
0.99
2.09
1.5
hlt0019-0011
3/4″
9
18
1.02
0.99
2.09
1.5
hlt0019-0012
3/4″
12
21
1.02
0.99
2.09
1.5
hlt0019-0013
7/8″
6
16.25
1.18
1.21
2.38
1.75
hlt0019-0014
7/8″
12
2225
1.18
1.21
2.38
1.75
hlt0019-0015
1″
6
18.2
1.3
1.37
3
2.06
hlt0019-0016
1″
12
24.2
1.3
1.37
3
2.06
hlt0019-0017
1-1/4″
12
26.48
1.83
1.37
3.56
2.81