US Type Stainless Steel D Shackle
Stainless steel d shackle is a chain shackle, that features with "D" shaped, it should only be used for straight-line applications, as slings with multiple legs could cause side loading conditions, we also have US Type Stainless Steel Bow Shackle for your option.
Material: AISI 316 / AISI 304
Surface: High polished finish
Size: From 3/16″ to 1″
Type: Stainless Steel D Shackle
Brand: Unbranded/Generic
Application: Lifting, Lashing, Towing
US Type Stainless Steel D Shackle Descriptions:

| | |
| --- | --- |
| MOQ | 1 Pallet, 1 Ton or 3000USD |
| Material | grade 316 or 304 stainless steel |
| Surface finish | High polished finish |
| Sizes | From 3/16″  to 1″ |
| Technique Procedure | Forged or Cast |
| HS code | 732690 |
Different types of shackles have different applications, check this article: What Are The Different Types of Shackles?
Precision cast or forged of 316 marine grade stainless steel.
The screw pin configuration is best for use in applications that are temporary or require repeated and/or quick connections and disconnections.
Stainless steel d shackles HS Code: 732690

US Type Stainless Steel Screw Pin Chain Shackle Packing: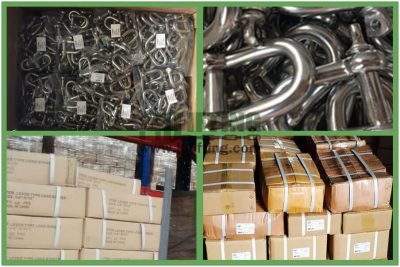 Useful shackle inspection checklist:

Shackles must always be inspected for wear, distortion, and damage before use. If the pin or bow is worn, distorted or damaged, discard the shackle.
Never exceed the working load limit (WLL), although actual WLL may be higher.
Do not use for overhead lifting or hoisting.
The actual appearance of the product may vary from photo.
Shipping and Payment Term:
We generally ship cargos worldwide by sea. The goods will be in a shipping container when arriving at the port. You are responsible for picking up your shipment and customs clearance on your side.
We do accept small, urgent orders that need to be shipped by air.
We currently accept T/T & L/C.
Please contact us if you have any questions about shipping or payment, we will be happy to assist you.
Part No.
Size  (in.)
Dimensions(mm.)
A
B
C
D
E
hlt0057-0005
3/16″
5
6
10
19
20
hlt0057-0006
1/4″
6
8
13
22
25
hlt0057-0008
5/16″
8
10
14
26
30
hlt0057-0010
3/8″
10
12
17
32
37
hlt0057-0011
7/16″
11
12
18
36
40
hlt0057-0012
1/2″
12
14
21
41
45
hlt0057-0016
5/8″
16
18
27
51
59
hlt0057-0019
3/4″
20
22
32
60
72
hlt0057-0022
7/8″
22
25
37
71
81
hlt0057-0025
1″
25
28
43
81
93
hlt0057-0028
1-1/8″
28
30
46
90
102
hlt0057-0032
1-1/4″
32
36
51
100
115