European Type Stainless Steel Bow Shackle
European type stainless steel bow shackle is easy to attachment and detachment due to a hole in the pin of the anchor shackle, it allows for the shackle to be wired shut. It is made from marine-grade stainless steel, will not harm humans, birds or mammals which might be adversely affected by zinc in the less-expensive galvanised fittings, we also have European Type Stainless Steel D Shackle for your option.
Material: AISI 316 / AISI 304
Surface: High polished finish
Size: From 4 mm to 36 mm
Type: Stainless Steel Large Bow Shackle
Brand: Unbranded/Generic
Application: Lifting, Lashing, Towing
European Type Stainless Steel Bow Shackle Descriptions:

| | |
| --- | --- |
| MOQ | 1 Pallet, 1 Ton or 3000USD |
| Material | grade 316 or 304 stainless steel |
| Surface finish | High polished finish |
| Sizes | From 4 mm to 36 mm |
| Technique Procedure | Cast |
| HS code | 732690 |
Different types of shackles have different applications, check this article: What Are The Different Types of Shackles?
Ideal for securing blocks and tackle, mooring and anchoring in harsh marine applications.
EN type stainless steel bow shackle HS Code: 732690

Packing: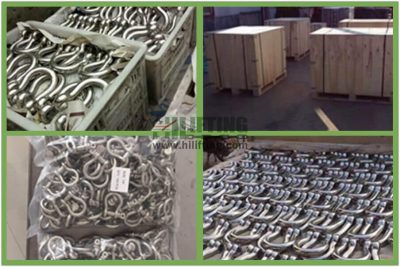 Useful shackle inspection checklist:

Shackles must always be inspected for wear, distortion, and damage before use. If the pin or bow is worn, distorted or damaged, discard the shackle.
Never exceed the working load limit (WLL), although actual WLL may be higher.
Do not use for overhead lifting or hoisting.
The actual appearance of the product may vary from photo.
Shipping and Payment Term:
We generally ship cargos worldwide by sea. The goods will be in a shipping container when arriving at the port. You are responsible for picking up your shipment and customs clearance on your side.
We do accept small, urgent orders that need to be shipped by air.
We currently accept T/T & L/C.
Please contact us if you have any questions about shipping or payment, we will be happy to assist you.
EN type stainless steel bow shackle sizes are available from 4mm to 36mm which can be used in applications in saddlery, bridles, harnesses, head collars, scuba diving or sailing, hiking, cycling, camping or bushcraft and will not rust or tarnish, and so can be used in all weather conditions.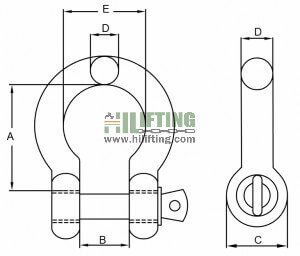 Technical Specification:

| | |
| --- | --- |
| Technical Standard | European Specification |
| Material | grade 316 or 304 stainless steel |
| Surface finish | High polished finish |
| Size | From 4 mm to 36 mm |
| Technique Procedure | Forged or Cast |
| HS code | 732690 |
| Country of origin | China |
Part No.
Size (mm.)
Dimensions(mm.)
WLL (kg)
A (mm)
B (mm)
C (mm)
D (mm)
E (mm)
hlt0053-0004
4
16
8
8
4
12
80
hlt0053-0005
5
20
10
10
5
15
100
hlt0053-0006
6
24
12
12
6
28
200
hlt0053-0008
8
32
16
16
8
24
320
hlt0053-0010
10
40
20
20
10
30
530
hlt0053-0012
12
48
24
24
12
36
800
hlt0053-0014
14
56
28
28
14
42
1100
hlt0053-0016
16
64
32
32
16
48
1500
hlt0053-0018
18
72
36
36
18
54
2100
hlt0053-0020
20
76
40
40
20
60
3000
hlt0053-0022
22
88
44
44
22
66
3500
hlt0053-0025
25
100
50
50
25
75
5000
hlt0053-0028
28
112
56
56
28
84
7000
hlt0053-0032
32
128
64
64
32
96
8000
hlt0053-0036
36
144
72
72
36
108
9200