Ship Launching Airbag for Marine Vessel
Wetop is the best marine launching landing rubber airbag supplier in China, our marine rubber airbag is also known as ship launching airbag, salvage airbag, or inflatable airbag, widely used in the areas of ship loading and unloading, heavy cargo handling, and floating salvage.
Material: Natural Rubber
Diameter: From 0.8m to 2.4m
Structure: End ironwork, end taper body, and cylinder body
Application: launching and landing ship/ boat/ vessel
Ship Launching Rubber Airbag Specification: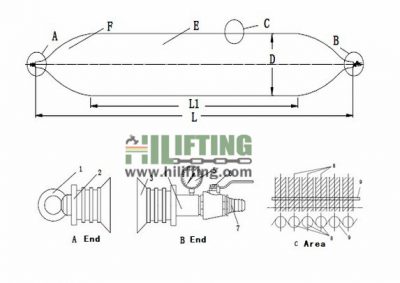 Product name
Marine Ship Launching Airbag
Material
Natural Rubber, Rubber-Dipped Nylon Cord Fabric
Size
From 0.8m to 2.4m
Constructions
Outer Rubber: The outer rubber layer protects the cord layers from abrasion and other external forces. This compound has sufficient tensile and tear strength to withstand any weather condition and
hard usage.Synthetic-netcord Layer for Reinforcement: The reinforcement cord layers, which are made of Synthetic-tire-cord commonly used in tires, are arranged at ideal angles to hold the internal pressure and distribute the stress evenly providing strong efficient reinforcement.End Fittings: End fittings include air tightness swivel and airbags safety air inlet.
Marine Airbag for Ship Launching Parameter Table:
| | |
| --- | --- |
| Diameter (D): | From 0.8m to 2.4m |
| Effective Length (L1): | From 6.0m to 20.0m |
| Total Length (L): | From 7.0m to 21.5m |
| Standard Number of Layers: | Usually 4-10 layers |
| Loading Capacity: | About 10-40 T/M |
Shipping and Payment Term:
We generally ship cargos worldwide by sea. The goods will be in a shipping container when arriving at the port. You are responsible for picking up your shipment and customs clearance on your side.
We do accept small, urgent orders that need to be shipped by air.
We currently accept T/T & L/C.
Please contact us if you have any questions about shipping or payment, we will be happy to assist you.