Snap Hook With Eyelet And Screw
Material: High Tensile Steel

Surface: Electric Galvanized

W.L.L: From 100 lbs to 900 lbs

Size: From 5mm x 50mm to 14mm x 180mm

Application: Overhead Lifting, Lashing, Towing
Eye bolt Snap Hooks W/ Screw Locking Specifications:

| | |
| --- | --- |
| MOQ | 1 Pallet, 1 Ton or 3000USD |
| Eye snap hook with screw material | High Tensile Steel |
| Surface finish | Zinc plated |
| Eye snap hook with screw sizes | From 5mm x 50mm to 14mm x 180mm |
| Technique Procedure | Stamping |
| Application | hiking, camping and general outdoor Not for overhead lifting |
| Eye snap hook with screw HS code | 732690 |
Screw Spring Lock Snap Hook With Eyelet Key Features:
Carbine snap hook with eyelet and screw is more strength and safer than snap hook with eyelet for adding manual screw allows for secure fixing of the carbine hook, we also have snap hook Din 5299 Form A for your option.
Made of mild carbon steel with electro-galvanized(Zinc Plated), has good protection against rust and corrosion, they are often referred to as safety snap hook carabiner.
Make quick connections with chain, rope, end links or other fittings in camping equipment, equipment's for fitness centers and playgrounds as well as the mountings for nets in tennis, badminton, and volleyball.
Check out this article about: Useful Tips For You Buying Snap Hooks.
Eye snap hook with screw HS code: 732690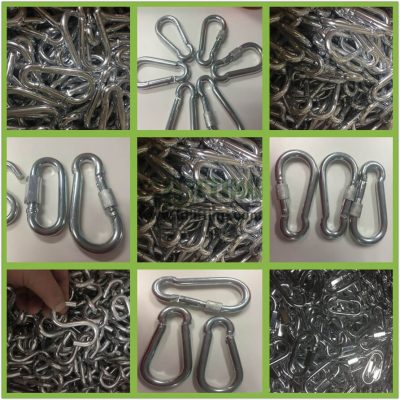 Screw Spring Lock Snap Hook With Eyelet Packing:

Shipping and Payment Term:
We generally ship cargos worldwide by sea. The goods will be in a shipping container when arriving at the port. You are responsible for picking up your shipment and customs clearance on your side.
We do accept small, urgent orders that need to be shipped by air.
We currently accept T/T & L/C.
Please contact us if you have any questions about shipping or payment, we will be happy to assist you.
Eyelet snap hook with screw lock sizes are from 5mm x 50mm to 12mm x 140mm, meet the performance requirements of DIN5299 standard.
Part No.
Size
A
B
C
D
F
W.L.L
mm
mm
mm
mm
mm
mm
lbs
hlt5300D0005
5*50
5
25
50
8
7
100
hlt5300D0006
6*60
6
30
60
9
8
140
hlt5300D0007
7*70
7
35
70
10
8
200
hlt5300D0008
8*80
8
40
80
12
9
250
hlt5300D0009
9*90
9
45
90
12
10
280
hlt5300D0010
10*100
10
50
100
15
11
400
hlt5300D0011
11*120
11
57
120
18
16
500
hlt5300D0012
12*140
12
67
140
20
19
600
hlt5300D0013
13*160
13
74
160
22
25
700
hlt5300D0014
14*180
14
86
180
22
35
900
You can also reach us by completing the form below: